Quick Facts
Library Annual Reports
| | | | | | | |
| --- | --- | --- | --- | --- | --- | --- |
| | | | | | | 2017 Annual Report |
| | | | | | | 2018 Annual Report |
| | | | | | | |
Mission & Vision
Through the provision of excellent services and resources, we support the academic mission of the University by fostering an environment that stimulates teaching, learning and research.
As an integrated, user-focused organization, we continuously work to improve our resources and services.
Library Professional Profiles
Professional Librarians
Who was Patrick Power?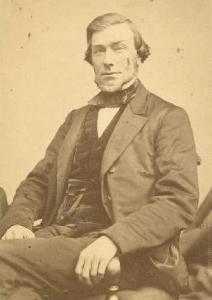 Patrick Power (1863)
Patrick Power was a prominent Nova Scotia businessman and politician. Money from his estate was donated to Saint Mary's University beginning in 1913.
A brief biography:
Patrick Power was born in 1815 at Kilmacthomas, Ireland, to Lawrence and Katherine Power.
He immigrated to Nova Scotia with his parents in 1823 and received his education in Halifax and Antigonish.
In 1832, he began a retail business in Halifax, and later a prosperous dry goods firm, Patrick Power and Company.
He married Ellen Gaul in 1840, with whom he had five sons and three daughters.
He became a director of the People's Bank of Halifax and involved himself in the work of charitable organizations, including the Charitable Irish Society, which still exists today.
He was Commissioner of the Poor Asylum from 1857 to 1874, and appointed to the Halifax Board of School Commissioners from 1860 to 1869.
In recognition of his work on various boards and commissions dealing with education and the welfare of the poor and destitute, Patrick Power was made a knight of the Order of St. Gregory the Great by Pope Pius IX in 1870.
Patrick Power died on February 23, 1881. Upon his death, he left a sizeable bequest to be used for the establishment of a Catholic orphanage and boys' school in Halifax.
More on Patrick Power at the Dictionary of Canadian Biography and at Wikipedia.