Nova Scotia Heritage Fair 2017
---
What is a Heritage Fair All About?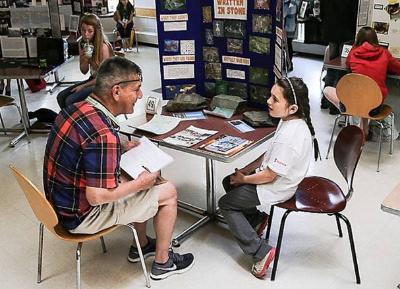 A Heritage Fair is an opportunity for students to explore a subject area of their own choosing and create a project that develop their interest in the subject.
The Nova Scotia Heritage Fair is a two day learning event held in Halifax at Saint Mary's University. Each school board can send up to 8 students. Each student (and one chaperone) is provided with one night's accommodation in the university's residence, and a travel stipend. Curators, archivists, librarians and interpreters along with professors from Saint Mary's Faculty of Arts collaborate to provide workshops and judging.

There are no winners, but students who excel are recognized in a variety of areas.

Every student goes home with a certificate of participation and an NSM family pass.

Heritage Fair Organizing Committee

Meagan MacPherson, Assistant to the Organizing Committee
Meagan is a senior Arts student completing a double major in Criminology and Sociology with a minor in English. Meagan currently works as the Student Coordinator for the Northern Ireland Conflict Resolution Project in partnership with Peaceful Schools International and Saint Mary's University. She is a recipient of the Spring 2016 Student Leadership Recognition Award for the Faculty of Arts. Meagan also teaches Highland dancing and competes as a tenor drummer with the 78th Highlanders Halifax Citadel pipe band.
Emily Anderson, Faculty of Arts B.A. Program Advisor, Saint Mary's University
Emily has a BA in Anthropology and an MA in International Development Studies. Before joining the Faculty of Arts Advising Office, Emily worked in the SMU International Activities Office and is currently Senior Program Coordinator for Peaceful Schools International.

Krystyna Brown, Assistant to the Organizing Committee
Krystyna is a senior Arts student at Saint Mary's University, majoring in French. Krystyna has worked with Peaceful Schools International, volunteered as an in-school mentor with Big Brothers/Big Sisters, worked at Sacred Heart School of Halifax, and studied abroad in Angers, France in 2015.

Kirrily Freeman, Associate Professor, Department of History, Saint Mary's University
Kirrily completed her PhD at the University of Waterloo and has taught European history at Saint Mary's for 10 years. Her research and teaching focus on the relationship between war and culture. She wrote a book about bronze statues that were melted down for the Nazis, and curated an exhibition about lost medieval church bells. She really likes spending time in libraries, archives and museums.