Will Njoku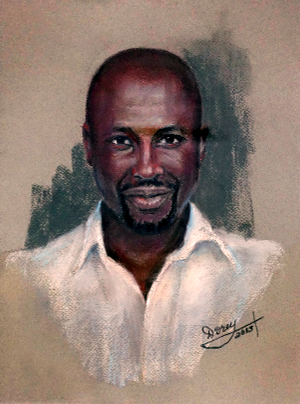 Inducted in 2013
Category: Athlete
"Set your feet, aim high, follow through, every day" - a simple mantra that came to William Njoku early in life and served him well throughout his career.
He arrived in Canada from Ghana in 1976 and started his athletic life as a soccer player but his size, eventually 6'9", and a desire to someday play in the Olympics, turned him to basketball. As a 12 year-old paper boy he watched the Olympics and was fascinated by a runner. This led to a scrapbook and a desire to someday take part in the Games. Following his high school days at Halifax West he was heavily recruited by over 100 schools including NCAA powerhouse Duke. The untimely passing of his father kept William closer to home and Saint Mary's was his University choice.
In his seasons with the Huskies he would appear in two National championships and in 1993 was named the winner of the Mike Mosher Award as the outstanding basketball player in the CIAU, the first AUS recipient in 13 years. While with the Huskies his play was a constant reminder of his great all round athletic ability and he was considered one of the great clutch shooters in school history. By the estimation of his coach Ross Quackenbush, he fired up the game winner at least 10 times.
Njoku represented Canada as a Junior at the world championships and would continue to do so at the Senior level for the next 10 years, competing in two world championships in 1994 and 1998.
A second round draft pick of the NBA Indiana Pacers in 1994 would lead to 10 years of professional basketball on 6 continents and 35 countries.
When his playing days ended he was Athletic Director at Crandell University in Moncton and continues to motivate many as a public speaker with "Will2Win" where he continues to set his feet, aim high, follow through, everyday.
Portrait Artist: Barb Dorey
Portrait Art Photographer: Shannon Doane
← Previous Inductee || Next Inductee →