Suzanne Muir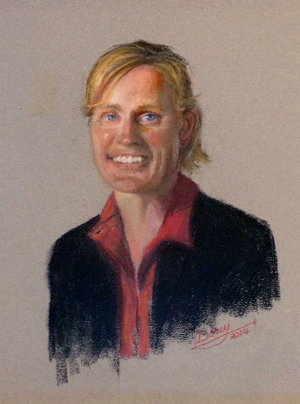 Inducted in 2014
Category: Athlete
Excelling at one sport is tough. Outstanding at two is rare. That describes Suzanne Muir.
While attending Dartmouth's Prince Andrew High School she was a standout in track and field and was a three time 'Athlete of the Year' at a school that has produced more than its share of talented competitors; but it was playing soccer and basketball where she made her biggest contributions while wearing the Huskies maroon and white.
Her soccer coach of more than 10 years, John Kehoe, was immediately impressed with her speed, positive attitude and love of the game. Her talent on the pitch would lead to numerous honours, including MVP in women's soccer in the AUAA in 1990-91 and again in 91-92. The two-time CIAU All-Canadian was also a five time AUAA all-star. When Muir led the Huskies to their first ever CIAU final in 1992 she was a tournament all-star.
In 1989, her first season at Saint Mary's, Muir was named 'Rookie of the Year'. Two years later she was the school's female 'Athlete of the Year'; an honour she would claim for a second time in 1993.
Following her collegiate career she would lead Nova Scotia to one of its finest moments ever in women's soccer at the Canada Games in Kamloops. Losing to Ontario in the final, Muir and the Nova Scotia team returned with a silver medal.
Muir played on Canada's National women's team from 1992 to 1999 and appeared in two World Cups, 1995 in Sweden and the U.S in 1999. Her ability and versatility led to the difficult task of marking one of the game's toughest ever opponents, Mia Hamm of the U.S. At Saint Mary's she was often used as a forward. In later years she would appear in the midfield and her sense of being in the right place at the right time made the switch seamless.
Muir made her mark in soccer but her first love was basketball. Before the last whistle had blown on the pitch she was putting on the sneakers as a 5'8" point guard who ran the Huskies' offense for 5 seasons. She loved the hoop game for a simple reason, the individual impact was greater and hers was enormous.
Five years and two sports but Muir still found time to earn two degrees, a BA and BComm. She is now a dedicated member of the Vancouver Police Department where her team spirit plays as big a role as it did during her years at Saint Mary's.
Portrait Artist: Barb Dorey
Portrait Art Photographer: Shannon Doane
← Previous Inductee || Next Inductee →