Susan Dunbrack-Beazley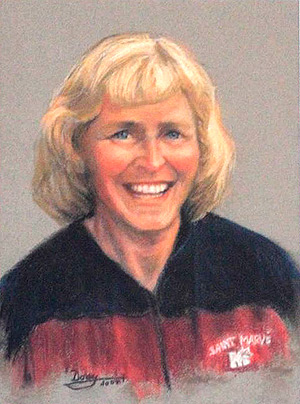 Inducted in 2004
Category: Athlete - Field Hockey and Basketball
In 1973 Saint Mary's University made a commitment to varsity sports for women.
Susan Dunbrack, who had been an outstanding all-round athlete at Queen Elizabeth High School, was the first female student-athlete recruited to Saint Mary's. In her first year she helped to lead the field hockey team to the Junior Varsity Championship and was chosen Most Valuable Player. Later that year, she led the women's basketball team in rebounds and steals and was a leading scorer. In the spring she was named Female Rookie of the Year. Having proved that they belonged, Susan and her teammates were elevated to the varsity level of competition in Women's Intercollegiate Sports.
In 1974 Susan combined her speed and endurance to serve as an effective defensive center and a leading scorer in field hockey. In basketball she was a leading rebounder and scorer on a team that defeated most of the established teams in the conference. At year's end, Susan was selected as the Outstanding Female Athlete of the Year.
Sue's speed, hustle, competitive spirit, and outstanding jumping ability enabled her to excel in basketball for two more years and in 1976, once again, Sue was chosen as MVP of the field hockey team.
Sue's skills and her desire to win were major factors in the success of the women's sports program in the initial years of varsity competition at Saint Mary's.
Susan also found the time to represent Nova Scotia in the Canada Games, twice as an athlete and twice as a member of the Mission Staff. Several years ago, she was inducted into the Nova Scotia Sports Hall of Fame as a member of Nova Scotia's Women's Field Hockey Team, National Champions of 1974-75.
Susan Dunbrack Beazley is most deserving of her induction into the Saint Mary's University Sport Hall of Fame & Heritage Centre as an outstanding double varsity athlete.
Portrait Artist: Barb Dorey
Portrait Art Photographer: Joe Chrvala
← Previous Inductee || Next Inductee →