Centre for the Study of Sport and Health
---
Welcome!
Here at the Centre for the Study of Sport & Health (CSSH) our focus is the interconnected relationship between sport and health. We engage in academic and practical research related to the physical, mental and social components of wellbeing.


Our Mandate:
Building upon Saint Mary's University's tradition of sporting excellence, the Centre for the Study of Sport & Health (CSSH) extends the growing research competence in the area of sport and health that already exists at Saint Mary's University.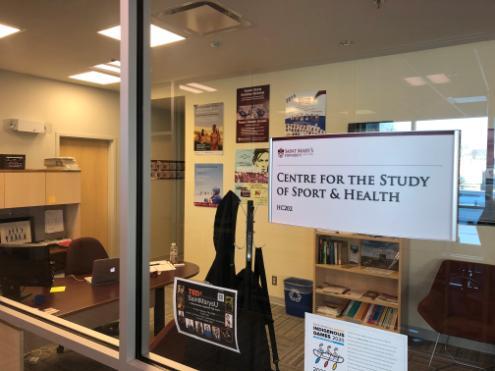 Find Us:
Centre for the Study of Sport & Health
Saint Mary's University
Homburg Centre, Suite HC 202
Halifax, Nova Scotia, Canada
+1 902.491.6454

Find us on Twitter.
Find us on Instagram.
About the Centre for the Study of Sport & Health (CSSH):
Established as a Senate-approved Research Centre in May, 2010, the Centre for the Study of Sport and Health facilitates and conducts research on sport, health and wellness. Under the leadership of Dr. Colin Howell, the CSSH has had an active history. Its high profile conferences, Putting it on Ice (2012), the 41st annual meeting of the North American Society of Sport History (2013), and the "Thinking Outside the Box: Transnational Lacrosse Conference" (2014) have brought international recognition to the Centre. The CSSH has been involved in various smaller symposia and lecture series on a continuing basis. In 2017 we were a co-sponsor of a student conference on the Philosophy of Sport organized by Dr. Lisa Gannett, and of an evening celebrating the all-black hockey line at Saint Mary's (1970) and a screening of a documentary on black hockey, organized by Dr. John MacKinnon. We will be hosting our next major hockey conference in 2020, the tenth anniversary of our renowned hockey conferences initiated in 2001.
In addition to conferences, symposia and guest lectures, the Centre has an active visiting researcher program, including post-doctoral fellows and other academics active in sport and health research. Over the years we have hosted scholars from all over North America, Great Britain, and Europe (including Russia). The CSSH has also been active in community-oriented research initiatives at the local, national and international levels, including work with various sporting bodies such as Sport Nova Scotia, and a number of sport heritage agencies including Canada's Sport Hall of Fame
Our research projects address a range of concerns, from a SSHRC-supported study of sporting borderlands to work on mental resiliency and the development of mental health strategies for organizations. Within the University we have been especially committed to involving students in our activities, from conference planning to the development of our Here for Peers student mentoring program, the Healthy Teams project and the Student Athlete Mental Health Initiative. We are presently developing a Student Athletes Village initiative in collaboration with the Department of Athletics.
Finally, we were active participants in the establishment of a certificate program in Health, Wellness & Sport in Society in association with the Faculty of Arts, which offered its first course in the winter of 2018.