Women's Field Hockey
2018 Atlantic University Field Hockey Championships
The Schedule for 2018 Atlantic University Field Hockey Championships is below, click on the link to view the whole schedule:
Schedule: AUFH Schedule Tournament 2, 2018
Statistics: AUFH Stats Oct 1, 2018
Results: AUFH Results October 1, 2018
---
Coaches
---
Field Hockey Executive 2018-2019
Sara Handel - President
Kali Gee - Vice President
Erin Ryan - Treasurer
---
Coaches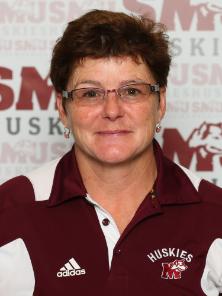 Sharon took over as head coach in 1992. A native of Halifax, Sharon graduated from Dalhousie University in 1985 with a Bachelor of Recreation. Sharon has a great deal of field hockey experience both as a player and as a coach. While at Dalhousie University she was an AUAA All-Star, a CIAU All-Star, and a team MVP. Sharon has represented Nova Scotia at a number of National tournaments and was named to the National squad for 2 years 1982 and 1983. Sharon has coached at the Provincial Senior and Junior levels over the past several years. She also has coached at the Regional level. Sharon has two previous years of coaching experience at the University level as an assistant coach; Dalhousie (1986), and at Saint Mary's (1987). Sharon has a Level III coaching certification under the NCCP program and is also a Level II Field Hockey Course Conductor. She is presently working towards her Level 4.
Email: sam.raj@ns.sympatico.ca
---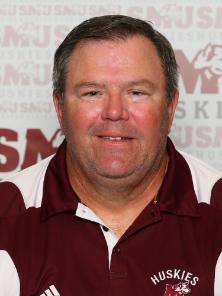 Michael Andrews (assistant coach) has been an assistant with the Huskies since 1992. He has been involved with field hockey in Nova Scotia for a number of years both as a player and as a coach. He was named to the National back up squad in 1979-80. He has played at the provincial level both as a goal keeper and as an out player. He has coached several provincial teams and his expertise in coaching goaltenders has certainly proven to be an asset to the Huskies. Michael is a fully certified Level II field hockey coach with the NCCP. Prior to coaching at Saint Mary's, Michael umpired in the AUAA field hockey league for several years
Email: mlsandrews@bellaliant.net
---
Angela (assistant coach) played for 5 years for the Saint Mary's Field Hockey Huskies before joining the coaching staff and was a member of the 2003 CIS Bronze Medal Championship Team. Angela has her NCCP Level II Coaching Certification in Field Hockey and is a Level III Coach for Ringette Nova Scotia. Education: BA, CSCS, NSCA C-PT, CFC
---
Final Teams Rank:
1. DAL=Dalhousie University
2. UPEI=University of Prince Edward Island
3. UNB= University of New Brunswick
4. SMU=St. Mary's University
5. STFX = Saint Francis Xavier University
6. ACA=Acadia University
7. MTA= Mount Allison University
Atlantic University Field Hockey All-Stars 2017
League All-Stars (Alphabetical Order)
Amy Bobyn STFX
Hailee Cook UNB
Kerry Costello DAL
Danielle Dempsey DAL
Patricia Gemmell SMU
Hannah Gormley UPEI
Sarah Handel SMU
Sarah Sear UPEI
Erin Spooner DAL
Samantha Spooner DAL
Michaela Yateman UNB
Major Awards:
Rookie of the Year Erin Spooner DAL
Goalie of the Year Courtney Sheffield ACA
Outstanding Contributor Award Amy Bobyn STFX
League MVP Samantha Spooner DAL
Coach of the Year Shona Bowes UNB
Umpire of the Year Richard Baker Atlantic
Please activate your student SMUfit membership pass (forms below) in order to belong to a Sport Club team.

Additional Club Documents