Women's Field Hockey
2018 Atlantic University Field Hockey Championships
The Schedule for 2018 Atlantic University Field Hockey Championships is below, click on the link to view the whole schedule:
Statistics: AUFH Play off Stats 2018
Results: Sarah Handel /SMU received an All-star and was named the Atlantic University Field Hockey League MVP 2018.
---
Quick Links
---
UNB Double Header:
September 7th departing and returning September 8th.
This will be a fun exhibition series with team bonding activities
Practices:
Tuesdays Fitness 7-830 am Small gym/SMU
Wednesdays 8:30-10:30 pm Turf
Fridays 10-12 noon Turf
Great to have you players back and welcome new recruits. There is no cost to participate in this all expenses are covered. If you have any questions please let me know!
---
Sophie Boulet - President
McKenna Purcell - Vice President
Sophie LeBlanc - Secretary
---
Coaches
---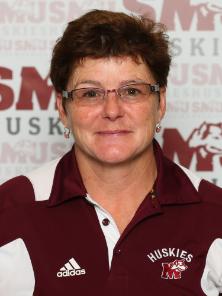 Sharon took over as head coach in 1992. A native of Halifax, Sharon graduated from Dalhousie University in 1985 with a Bachelor of Recreation. Sharon has a great deal of field hockey experience both as a player and as a coach. While at Dalhousie University she was an AUAA All-Star, a CIAU All-Star, and a team MVP. Sharon has represented Nova Scotia at a number of National tournaments and was named to the National squad for 2 years 1982 and 1983. Sharon has coached at the Provincial Senior and Junior levels over the past several years. She also has coached at the Regional level. Sharon has two previous years of coaching experience at the University level as an assistant coach; Dalhousie (1986), and at Saint Mary's (1987). Sharon has a Level III coaching certification under the NCCP program and is also a Level II Field Hockey Course Conductor. She is presently working towards her Level 4.
Email: sam.raj@ns.sympatico.ca
---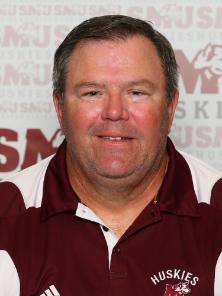 Michael Andrews (assistant coach) has been an assistant with the Huskies since 1992. He has been involved with field hockey in Nova Scotia for a number of years both as a player and as a coach. He was named to the National back up squad in 1979-80. He has played at the provincial level both as a goal keeper and as an out player. He has coached several provincial teams and his expertise in coaching goaltenders has certainly proven to be an asset to the Huskies. Michael is a fully certified Level II field hockey coach with the NCCP. Prior to coaching at Saint Mary's, Michael umpired in the AUAA field hockey league for several years
Email: mlsandrews@bellaliant.net
---
Angela (assistant coach) played for 5 years for the Saint Mary's Field Hockey Huskies before joining the coaching staff and was a member of the 2003 CIS Bronze Medal Championship Team. Angela has her NCCP Level II Coaching Certification in Field Hockey and is a Level III Coach for Ringette Nova Scotia. Education: BA, CSCS, NSCA C-PT, CFC
Please activate your student SMUfit membership pass (forms below) in order to belong to a Sport Club team.

Additional Club Documents