Robert "Puddy" Reardon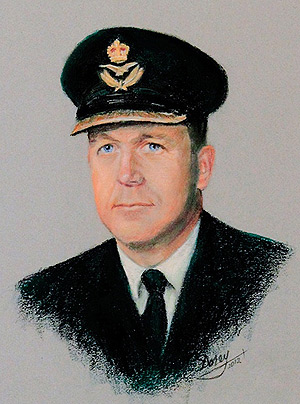 Inducted in 2012
Category: Builder
Excellence in sports has been one of the hallmarks of Robert "Puddy" Reardon's life. One of the best student-athletes at Saint Mary's High School in the mid-1940s, he advanced to Saint Mary's College where he excelled in curling, baseball, football and hockey, leading our legendary Junior Hockey team to three consecutive Maritime championships beginning in 1946.
"He didn't have the advantages of modern day quarterbacks who have crowds of thousands to cheer them on,' says Don Joey Johnson, a classmate of Reardon's at Saint Mary's College in the mid-1940s and a long-time member of the Board of Governors of Canada's Sport Hall of Fame. "He had only 150 students from the high school and 150 more from Saint Mary's College to support his efforts at the rink or on the playing field, yet he gave every game his best.'
After a break from formal education, Reardon returned to Saint Mary's in the late 1950's to complete a degree in Commerce. He worked in the summers as a Golf professional and manager and during the year as a high school and university football coach.
In 1961, Reardon joined the RCAF and was posted to Summerside, PEI. The following year he won the Summerside Golf Club's championship. During his 15-year career in the Armed Forces, Reardon was involved in Golf, Curling, Hockey and Softball as a player and manager. After retiring, he took a Manager's position at Ashburn Golf Club and headed up two National Golf Championships held in his area.
Over the years, Reardon has served on committees related to sporting activities and officiating. He refereed football in the AVAA for 25 years and was head referee for two Atlantic Bowls.
A unique athlete, official, administrator and manager, Reardon has followed Saint Mary's athletics for more than 50 years. Each year he contributes to our hockey team and each year he purchases a season ticket. For Don Joey Johnson, who has faced many difficult decisions when casting his vote for inductees into Canada's Sport Hall of Fame, there is no better candidate for Saint Mary's honour than Robert "Puddy" Reardon.
Portrait Artist: Barb Dorey
Portrait Art Photographer: Joe Chrvala
← Previous Inductee || Next Inductee →