Robert G. Hayes, Esq.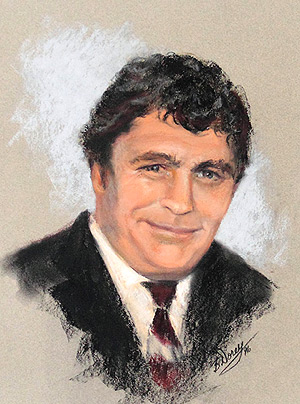 Inducted in 1995
Category: Builder
Athletic Director Emeritus 12 October, 2001
From his arrival at Saint Mary's in 1958 until his official retirement in May 1992, Robert G. (Bob) Hayes became an institution within the institution; the man who developed the bare bones of an athletic program into a model for other Canadian universities.
He did that in several ways, first by convincing the people in charge of Saint Mary's that a strong varsity athletic program, coupled with a corresponding increase in intramural activity, was vital to the student population in terms of personal growth and pride in their school.
Armed with a mandate to achieve excellence, while keeping one eye on the ever important budget, Hayes tackled the job with the same degree of energy and enthusiasm that marked his distinguished football career. The man from Perth, Ontario, the Cheese Capital of Canada, had first come to Nova Scotia in 1950 as an electrical technician with the Royal Canadian Navy and never found the time to go home. Instead, he became the greatest fullback in Maritime Football history in six brilliant seasons with the Shearwater Flyers and Stadacona Sailors before mustering out to join Saint Mary's and begin a spectacular ascent to stardom as an athletic administrator.
He surrounded himself with the best people available; installed them in their respective coaching positions; and then presided over a program of recruitment of student-athletes who combined to bring distinction after distinction, victory after victory, championship after championship to the campus of Saint Mary's, each one marked with the Bob Hayes stamp of excellence. Saint Mary's evolved from a little known school in Halifax's south end, to one of the great powers in national intercollegiate athletics; in the process, Bob Hayes became the most respected and best liked athletic director in the country. That kind of national affection has not changed with retirement. It wasn't so when he left home, but 45 years later, Bob Hayes is finally "The Big Cheese" from Perth.
Portrait Artist: Barb Dorey
Portrait Art Photographer: Joe Chrvala
← Previous Inductee || Next Inductee →