Rev. Al Brown, Jr.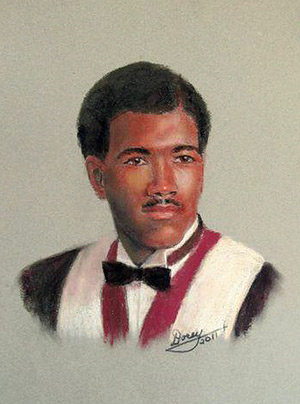 Inducted in 2011
Category: Athlete - Basketball
Among the thousands of athletes who have passed through the hallowed halls of our esteemed university over these many years, few raised the standards of skills, character and leadership to a particular program more than Alfred E. Brown, Jr. From 1966 to 1970, the young man recruited by then Huskies varsity basketball coach Les Goodwin out of a New Jersey high school compiled career achievements that continue to withstand the tests of time. At the time of his graduation (Class of 1970), Al Brown was the leading rebounder in AUBC history (15.6 RPG in conference in '68) and over the past 38 years, his rebounding record has only been eclipsed once.
On his way to setting the University record of 1,237, Al set a single game record of 24 rebounds in the CIAU tournament of 1968 that still stands. In the same tournament he captured 19 rebounds in a game against Waterloo Lutheran and finished the '68 season by averaging 16.4 rebounds per game and became the first SMU player to make the CIAU All-Tournament team. During his four seasons, the Huskies conference record of 41-14 is a reflection of the impact Al Brown brought to the program and set the stage for the national championship teams that emerged in the following years. But beyond the statistical evidence that raised his personal performance to another level is the story of a natural leader whose commitment to excellence and personal deportment set the example for teammates to respect and many to follow. His late coach Goodwin probably summed it up best in a letter to Brown after graduation when the athlete chose a career in the Christian ministry. "You are a great competitor and a pleasure to coach. The way you helped other players and kept the team together was tremendous. You were a loyal friend, a clean living young man and I am glad you have chosen to serve Him". It was signed, "The Old Goat". Off campus, Al and teammate Billy Thomas voluntarily conducted a basketball camp for kids on Saturday mornings in Cherry Brook and also served on the 1969 Canada Summer Games Lacrosse Committee.
After graduation, Al received a Master of Divinity degree from Drew University in Madison, New Jersey. He served for over 30 years as pastor of First Baptist Church of Cranford, N.J. During this tenure, he has also served two terms as president of the Cranford Clergy Council and since 1992 he has served on the Union County Human Relations Commission. Al was awarded the Rev. Dr. Martin Luther King Jr. award for 2006 by the Cranford Clergy Council and Interfaith Human Relations Committee for his contribution to the cause of Human and Civil Rights in the community. Beginning in 1973, Al Brown has worked at Kean University, Union, N.J. as Assistant and Associate Director of Student Financial Aid and is at present Assistant to the Dean of Visual and Performing Arts.
As Al Brown takes his rightful place among the great Huskies enshrined in the Hall of Fame, the last word on this inductee surely belongs to the late Saint Mary's Athletic Director Emeritus Bob Hayes in a letter to the departing athlete in 1970. "In my mind's eye, I can easily conjure a vision of your grace and strength on the basketball court. Both on and off the playing field you had exceptional qualities. You epitomize what coaches all hope their student-athletes would be. You were one of the outstanding athletes in the 1960's in this country.
Portrait Artist: Barb Dorey
Portrait Art Photographer: Joe Chrvala
← Previous Inductee || Next Inductee →