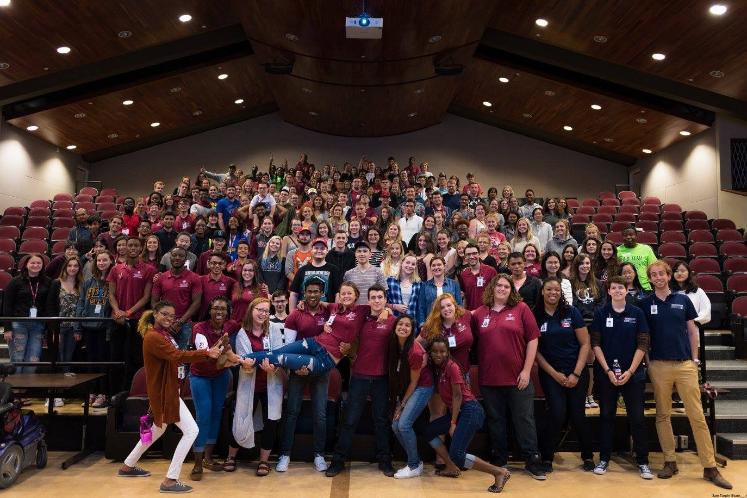 ---
About Us
Residence Life: Mission
To annually support the academic success of and create a sense of belonging for 1100 students in an inclusive, engaged, and diverse residence community through purposeful social and educational programming initiatives grounded in student development theory.
Residence Life: Vision
Residence Life at Saint Mary's University will be a Canadian leader in providing programming and student leadership development opportunities within an intercultural residence community.
Residence Life Programming
Residence Life works to prepare a variety of programs throughout the academic year to engage diverse students in a shared residence community. These programs cover a variety of social and educational topics in order to promote inter-cultural sharing and friendships possible because of connections made in residence. Annually, several events are held in residence including Battle of the Floors, the Residence Talent Show and the Residence Banquet, but new projects are added every year.
Why residence?
Residence provides students with a safe space to meet new people and become acquainted with the Saint Mary's Community while participating in interactive and enjoyable events that will result in life long memories. Living in Residence eases student transition to living alone and allows students to be close to classes and services that will make their time away from home a more comfortable one.
Assistant Director, Residence Life
The Assistant Director of Housing and Residence Life is responsible for all aspects of student life in residence, and works to ensure that the RAs, RCs and PEC are working to create programs that best address the needs of the student population in residence.
Programming and Engagement coordinator
The Programming and Engagement Coordinator (PEC) is in charge of overseeing and assisting in the programming of all events in residence. The PEC works with Residence Assistants and other student staff and volunteers to come up with new residence events and keep the student body engaged in residence life.
Residence Coordinators
The Residence Coordinators (RCs) supervise the Residence Assistants and work with other elements of our Residence Life team to keep residence functioning. RCs help RAs identify needs within the residence community and work to create programming to effectively address these needs throughout the year. RCs are also available to deal with the concerns of residence students and are the next line of communication after a student goes to their RA with an issue.
Residence Assistants
There is one residence assistant (RA) hired for each floor in residence and their job is to plan educational and social programming monthly, along with hold floor meetings, to engage residence students on their floor. RAs also help plan a variety of engaging events throughout the year in residence and are the first line of support for any questions or concerns of residence students.
Committee Executive
Saint Mary's University has three central residence Committees who plan events for students throughout the year. The events committee, Big Three Committee, and Multicultural committee have separate mandates to cover a variety of interests in residence and each have three committee executives who lead the planning of events. Committees recruit members at the beginning of the fall semester for the upcoming year, but also accept new interested students throughout the year. Additionally the Residence Green team has been created for students interested in making Residence more eco-friendly.