Paul Puma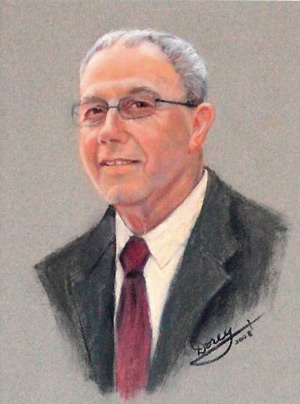 Inducted in 2008
Category: Athlete - Football
Paul Puma represents one of those wonderful stories of a carefully crafted policy initiated in the early 1960's that have become the legacy of Saint Mary's Athletic Director Emeritus Robert G. Hayes: the recruitment of student-athletes of strong mind and character capable of combining a heavy workload of two disciplines into a single purpose, results that bring pride and dignity to the institution. It was into this environment that Paul Puma emerged from his Toronto High School in 1963, with a purpose for education and a passion for football. The passion resulted in producing an All Canadian college fullback and team leader. The purpose resulted in producing a 30-year career as an innovative educator in Halifax who continues to give back to his school and adopted community in so many ways. As in the stories of so many of Hayes' early recruits from other places and in a policy that continues, this is the saga of the kid who came, saw, conquered, and never went home.
Paul made an impression on all around him from the time of his arrival as a freshman who impacted the football Huskies as Rookie of the Year in the then Atlantic Football Conference. A physical presence on the field and a practical joker whose sense of humour kept everybody loose, he became the heart of a very talented Huskies team and perhaps the only Huskie ever to make Coach Hayes laugh at a joke, if only once. He would become a four-time, first team AUFC All-Star fullback and a first team All Canadian, the workhorse who almost single-handedly won the Atlantic Bowl in 1964. Puma collected 144 yards in 19 carries, plunged over the line for a major in the fourth quarter as the Huskies defeated the McMaster Marauders 15-1 and won the first Stanfield Trophy for the AUFC in the six-year history of the Atlantic Bowl. In 1965 and "66, he changed positions and became an All-Star middle linebacker both years.
Academically, Paul graduated with both a B.Comm.,'67, and a B.Ed., '68 from Saint Mary's before embarking on his career as an educator where he used his wit and wisdom to be a mentor to his students and student-athletes. In the process, he changed the culture of J.L. Illsley High School, where he spent his entire career as Vice-Principal and Principal, from one of confrontation to one of zero tolerance and acceptance. Other schools followed Paul's lead and adopted similar programs. He authored a handbook of discipline (student behaviour expectations) that was emulated throughout the Nova Scotia educational system.
Paul also coached the J.L. Illsley softball team for 27 years and is one of only three Nova Scotian coaches who have won medals at national competitions in ringette. He coached in this sport at all levels for 30 years, where his teams won numerous provincial titles and medaled at the 1989 National Ringette Championships. He also served on regional and national boards. Paul was also coach of the Halifax Buccaneers senior football team in the Bluenose Football League in 1967 and '68, sending Haligonian Wayne Smith to the CFL in the process. These days, his leisure hours in retirement are spent as a tapman where he dispenses wit, good cheer, the odd quick comeback and the benefit of his vast knowledge as an athlete and educator. He has also devoted his time and energies organizing Canadian Legion veterans' visits to the schools to relate their experiences and continues to serve his alma mater as Chair of the Steering Committee for Saint Mary's Sport Hall of Fame & Heritage Centre.
It can be said with great accuracy that Paul Puma has been a success with every aspect of his life, most of all in his 40-year marriage to Donna and in raising their three children, Dana, Leah and Danny. Paul and Donna are now devoted to their seven grandchildren. It can also be said with equal accuracy that Paul Puma has always represented Saint Mary's with integrity, honor and respect, giving back abundantly of his time and talents. He has epitomized the Saint Mary's motto, "Age Quod Agis', and is most worthy to take his rightful place in Saint Mary's Sport Hall of Fame & Heritage Centre.
Portrait Artist: Barb Dorey
Portrait Art Photographer: Joe Chrvala
← Previous Inductee || Next Inductee →