Mike Hornby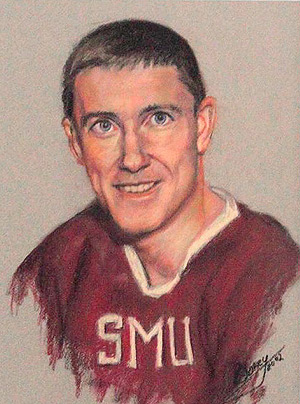 Inducted in 2002
Category: Athlete - Hockey
Following a highly successful minor hockey career, Mike played with the now famous Halifax Junior Canadiens while attending Saint Mary's in pursuit of a Commerce degree.
Saint Mary's iced a team for the first time in five years in 1967 after athletic director Bob Hayes, through the Montreal Canadiens Sam Pollack, secured the services of professional Bob Boucher as coach. Hornby, having used up his junior eligibility, made the move to the collegiate ranks with authority. He led the Maritime Intercollegiate League in scoring, while smashing the all-time assists record in what was one of the most interesting scoring races in Maritime history.
Clement "Chi Chi" Feranzena, Saint Francis Xavier's sensational scoring senior erupted for three goals and 11 assists in two games to land just one point behind league leading Hornby, each with a game to go in the regular season of the eight-team loop. Hornby scored a goal and three assists in his final game as the Huskies held off Mount Allison 6-5 while the next night Feranzena picked up two assists for a season total of 47, just three behind Hornby.
Coach Boucher classed Hornby as a "brainy playmaking centre" with some great scorers around him in the likes of Rod Bossy, Brian O'Byrne, Bobby Woods and Greg Gordon who all finished in the top 10 scoring that season. Hornby was named Saint Mary's Athlete of the Year in 1968 and was awarded a "Gold M".
Upon graduation he continued his hockey career with the New York Rangers farm club, the New Haven Blades in the Eastern Hockey League. He led his team in scoring two years in a row, scoring 101 and 129 points including 46 goals in year two, was named Rookie of the Year for the Blades, was second in league scoring his second year, made the All-Star team, and won a Northern Division title.
He moved on to the Saginaw Gears in the International Hockey League (IHL) playing for the Minnesota North Stars farm club for two years where his prolific scoring touch earned him All-Star honors as he once again was one of the top scorers on the team and in the league. Mike attended four NHL training camps during his professional hockey career. He returned to Halifax and completed his studies, earning a chartered accountancy designation in 1975. Mike has been a practicing chartered accountant in the HRM ever since and is a partner with Hornby Tinkham Marshall, Chartered Accountants.
His athletic prowess also includes a passion for golf and running, having completed two marathons.
Mike has given back to his community generously as evidenced by his involvement in the following organizations: Coaching minor hockey, serving on the Board of Directors and the Alumni Association at SMU, serving on the Board of Directors of many non-profit organizations including Brightwood Golf and Country Club, Big Brothers/Big Sisters, and Dartmouth General Hospital Charitable Foundation.
This rare combination of athletic ability and community spirit is an inspiration to fellow Santamarians. Mike lives in Dartmouth with his wife Lyndell. They have two children, Mark, a SMU Alumnus, and daughter, Lise.
Portrait Artist: Barb Dorey
Portrait Art Photographer: Joe Chrvala
← Previous Inductee || Next Inductee →