Mike Curry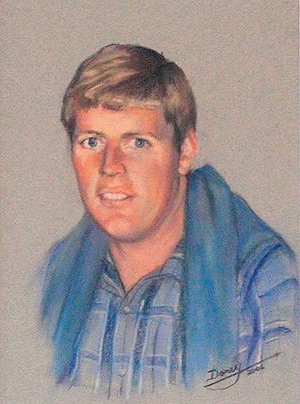 Inducted in 2006
Category: Athlete - Football
Mike Curry is another fine example of so many great student-athletes from the northeastern United States who have followed an alumni pipeline and left their indelible prints on the sport history of Saint Mary's University. They who have come have conquered our hearts.
At Pinkerton Academy in Derry, New Hampshire in the early 1970's, young Michael Curry came under the influence of his coach, former Huskie Roger Cloutier, who persuaded his football/lacrosse captain that Saint Mary's was his best secondary education option for its academic and athletic standards and the opportunity to weave them in a warm and friendly environment.
It was an ideal marriage that the years have not diminished. The All-Star athlete from 1973 to 1977 went on to play in the Canadian Football League with Toronto Argonauts before retiring to begin a business career in his native New Hampshire but never lost his love for or involvement with Saint Mary's. Mike is always among the first back for Homecoming Weekend and the annual Hall of Fame Inductions. He was Honorary Chairman of the Atlantic Bowl in 2001. In many ways, Mike Curry is still the captain.
Glittering as they are, his field statistics don't begin to measure Mike's overall contributions to the athletic program. His personal achievements are impressive of course, All-Conference centre in his freshman year with excellent blocking techniques and his accurate third-down snaps that played a role in the Huskies' potent kicking game. He was named AIAA All-Star Offensive Guard in 1974, '75 and '76, the year he was also selected All-Canadian Offensive Guard and Saint Mary's Male Athlete of the Year.
The quality that most endeared Mike Curry to his teammates and coaches during a career that began with a Vanier Cup in 1973, was the leadership he brought to the Huskies over those four years. From the very beginning he played in one of the less glamorous positions and consequently his effectiveness was often lost in the public adulation reserved for offensive heroes. But Curry's value was never lost on Al Keith, his coach of the time who recognized something special almost immediately and summed it up after the 1973 season.
"Curry is undoubtedly the top freshman lineman I've seen in my four years of coaching at the college", said Keith. He added, "He does everything well and didn't play one bad game for us all season". The early assessment could have also described Mike Curry's performance over the next four seasons. After completing the then AIAA maximum four seasons of eligibility, Curry added another Vanier Cup ring with University of Western Ontario Mustangs in 1977.
The essence of Mike Curry was probably best described by Roger Cloutier who said, "The ability to lead is inherent in very few people, but Mike is one of the few. You lead by doing - you lead by talking - or you have that intangible quality that makes people follow. A captain makes a difference in the attitude of his team. He is the person who never lets up, and who is always there when the chips are down. Those who succeed in leading will become the bright stars of our society".
Michael Curry, a leader most worthy of induction into Saint Mary's Sport Hall of Fame.
Portrait Artist: Barb Dorey
Portrait Art Photographer: Joe Chrvala
← Previous Inductee || Next Inductee →