Malcolm "Mac" Davis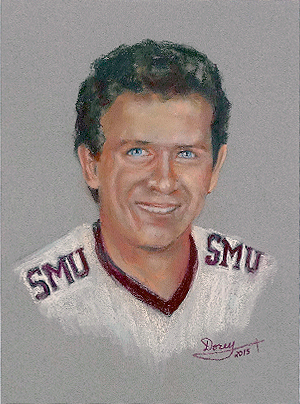 Inducted in 2015
Category: Athlete
"He worked hard, not to be outworked". This was how one teammate described Malcolm "Mac" Davis and it served him well and may have come in large part from the fact that he grew up in Tidnish, N.S. where he was one of 10 brothers and sisters. In the early years limited money and facilities meant he played on outdoor rinks and worked hard to refine what would later be described as a "great shot".
After a standout junior career in the Metro Valley League with Amherst and Truro, it was his father who advised him to reject a tryout offer from the Montreal Jr. Canadiens and take the offer from Bob Boucher and try his luck with the Saint Mary's Huskies.
At centre and then left wing Davis would score 50 goals in 3 seasons at SMU. In the 76/77 season, when the Huskies won the AAU title, Davis would suffer a major disappointment. At the Nationals he injured his knee in the win over Concordia and missed the final against the University of Alberta Golden Bears, which SMU lost. Of his years at SMU Davis said "I bled maroon and white and it was an honour to wear the 'A' ".
In his rookie season as a professional with the Kansas City Red Wings of the Central Hockey League he scored 42 goals. Davis would play 100 games in the NHL with Detroit and Buffalo but it was with the Sabres AHL affiliate that he would enjoy his greatest success. In 1983/84 Davis led the Rochester Americans to the Calder Cup and in the regular season scored 55 goals in 71 games. He was later named to the Americans Hall of Fame.
Davis finished his pro career with a five year stint in the Finnish Elite League playing for TPS Turku.
During his long hockey career Davis found time to finish his degree in history and worked as a medical rep in the pharmaceutical business.
Portrait Artist: Barb Dorey
Portrait Art Photographer: Shannon Doane
← Previous Inductee || Next Inductee →