Les Goodwin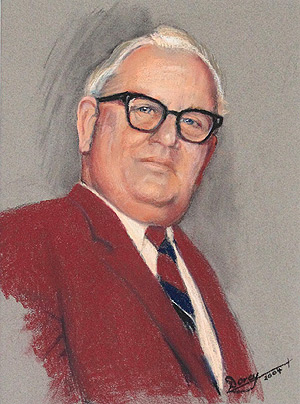 Inducted in 2004
Category: Builder
Les Goodwin came to Saint Mary's University at age 56 with the reputation of being one of the winningest high school coaches in the United States.
For over 35 years, Les had been a teacher of Kinesiology and Physical Education as well as coach of football, baseball and basketball in New Jersey's high school system and at Panzer College, now a New Jersey state university.
In 1963, Les answered an advertisement placed by Saint Mary's in an American sports journal. Accompanied by wife, Billie and son, Tom (later to become a student at SMU) Les moved to Canada to fill the positions of basketball coach, assistant football coach with other duties including intramurals coordinator at Saint Mary's University. He brought with his coaching talent the wisdom of his experience and the benefit of his contacts to Saint Mary's young staff in the Athletics and Recreation Department.
During Coach Goodwin's tenure (1963 to 1972), the basketball program flourished. To quote former player, The Reverend Al Brown – "From 1966-70 the basketball team won over 75% of their games... No team in the league had a better record than did SMU during those years". He was the first basketball coach to win the Atlantic Canada championship (now the AUS). In addition, his team was ranked #2 nationally in 1969.
Les won the admiration of the North American athletic world in a less sophisticated time, when one person was often responsible for more than one team sport. His coaching record, his commitment to youth through camps and clinics, and his talent as raconteur were legendary. Few know that he raised and showed championship rabbits…that he loved sports fishing ...that he played piano and trumpet well enough to perform with the Jimmy Dorsey Orchestra.
Leslie K. Goodwin, Renaissance Man
Portrait Artist: Barb Dorey
Portrait Art Photographer: Joe Chrvala
← Previous Inductee || Next Inductee →