Lee A. Thomas, Jr.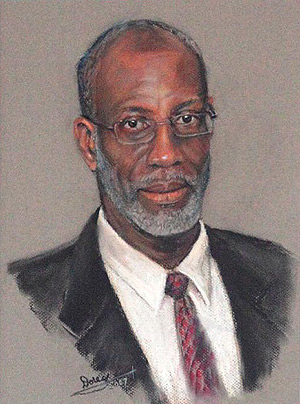 Inducted in 2007
Category: Athlete - Basketball
Lee Thomas, Jr. is another of those great young American student-athletes who have graced the halls of Saint Mary's over the last half century and played important roles in the development of Huskies' programs into wonderful success stories. Thomas was an integral part of the Saint Mary's basketball dynasty from 1973 to 1976, a brilliant centre from Newark, New Jersey who became one of the greatest basketball players ever to wear a Huskies uniform. Beyond that, Lee integrated himself into the mainstream of the city's sports community during his years of residency that ended in 1978 during which time he became a leader and role model for young Haligonians.
On the court as a Huskie the 6'5", 210 pound centre Thomas did it all, winning individual distinctions while contributing to Saint Mary's overall team successes. Over the course of his college career Thomas pretty well swept the board as far as individual awards were concerned with Hall of Fame accomplishments. His records include Most Rebounds in a season (453) in 1975, Career Rebounds (1,551), Best Field Goal Percentages (54.4%), Best Rebound Average A Season (15.9% in 1973), Best Career Rebound Average (13.3%), Career Field Goals (51.5%,818/1587), Career Win-Loss Record CIAU 85-15 (850).
Lee was also AUAA All-Conference (1973 - 74, 75, 76) Starting Lineup All Canadian (1975, 76), National Tournament All-Star (1973, 75, 76), National Basketball Festival of Canada All-Star (1974, 76), SMU Rookie Of The Year (1973), SMU Outstanding Player (1973), SMU MVP (1974), No. 2 All-Time Scorer (2050 pts), SMU Male Athlete Of The Year (1976) and Thoroughbred Award winner (1974, 75).
While his glittering basketball contributions to Saint Mary's are well documented, Lee Thomas also made time in his off hours at school to work tirelessly and effectively with inner city youth. He became involved with the Community YMCA from 1973 to 1978 and through his friendship with Terry Symonds became a volunteer coach with their Mini Boys basketball team, winning four provincial championships. He also coached the Men's Juvenile team to a provincial title in 1977. Lee was also instrumental in organizing one of the first Outdoor Basketball Leagues at the George Dixon Recreation Centre in partnership with the Community Y.
Perhaps the highlight of his Halifax residency, other than the remarkable accomplishments as a Huskie, was organizing an "Each One, Teach One" program, to help inner city youth develop a better understanding of the value of a good education through sports and academic programs. The program has been highly successful, assisting many young people to graduate from high school as well as university. Returning to New Jersey in 1978, Lee has worked with the city of Newark, managed a fast-food restaurant and was employed by a major airline. He is at present the owner of a Notary Signing Agency in New Jersey.
Saint Mary's warmly welcomes Lee Thomas to his well deserved distinction as a member of the Saint Mary's Sport Hall of Fame.
Portrait Artist: Barb Dorey
Portrait Art Photographer: Joe Chrvala
← Previous Inductee || Next Inductee →