Larry Uteck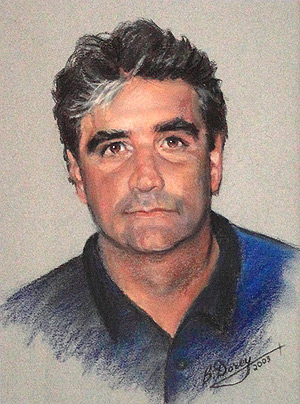 Inducted in 2003
Category: Builder
Director of Athletics at Saint Mary's University, politician, CFL All-Star. Born October 9, 1952, in Toronto. Dies December 25, 2002, in Halifax, of ALS, aged 50.
When Governor General Adrienne Clarkson pinned the Order of Canada on Larry Uteck's lapel in Halifax last October, there was a spontaneous standing ovation. The man in the wheelchair, silenced and paralyzed by disease, had won the city's heart.
Growing up in Thornhill and Willowdale, Ont., Larry was part Tom Sawyer, part Huck Finn; mischievous, competitive, and profoundly resistant to being told what to do. He knew the joy and the pain of being adored and betrayed.
He was a talented athlete, but an injured Achilles tendon ended his hopes of playing hockey seriously. He went to the Jesuit school Brebeuf Collegiate, but his prickly resistance to authority resulted in the principal telling his mother every year to find another school for him. Every year, she prevailed and Larry stayed. He had a continuing affection for waifs and strays, the marginal and the eccentric. He loved football, and played with reckless intensity, but hated being defined as just an athlete.
Larry went to the University of Colorado on scholarship, but insisted on taking East Asian Studies, and was furious when he was told he couldn't study Chinese because it conflicted with football practice. He attended Wilfrid Laurier University in Waterloo, Ont., for a year before being drafted by the Toronto Argonauts - but after his first season, traveled through still-war-torn Vietnam and Cambodia, taking extraordinary risks, collecting amazing stories and lifelong friends.
Larry's career in the Canadian Football League was defined by his physical courage. He was a punishing tackler - it was unnerving to see him straighten out his helmet afterwards, as if his neck had been unhooked - and a self-destructively determined punt returner.
He paid the price. After five years in Toronto, he was traded to Montreal (where his interception and touchdown took the Alouettes to the Grey Cup in 1978), and then, as his body deteriorated, to British Columbia and finally to Ottawa.
After his football career ended, it took him a while to acknowledge how much he loved the game. In 1982, he was hired as an assistant coach at Saint Mary's University and moved to Halifax, where he fell in love with the city, then with Sue Maloney (whom he married in 1989), and their two children Luke and Cain.
He became head coach in 1983, taking the team to the Vanier Cup three times. He saw a world beyond the football field; he was as proud of David Sykes winning a Rhodes Scholarship as he was of the players who went on to play professionally.
In 1994, he ran for Halifax City Council and was elected, and in 1998 became deputy mayor. He was as hardworking and candid as a politician as he was as a coach. In December 1997, Russell McLellan, then Liberal Premier of Nova Scotia, tried hard to persuade him to be a candidate. Tempted, Larry said, "I just can't."
He was already feeling the first symptoms of amyotrophic lateral sclerosis (ALS); it was the beginning of a five-year decline and an extraordinary demonstration of grace, wit and courage. As he wrote to his young daughter Cain, "I had a long, active, and productive life as a caterpillar. Now I am more quiet and restful, kind of like living in a cocoon. I don't know how or when or even why, but when this stage is over I will be a butterfly. Won't that be something, your Dad the butterfly.'
At his instruction, the Bob Dylan song I Shall Be Released was played at his memorial service at the Basilica in Halifax, where 1,500 people came to say goodbye.
By Graham Fraser
The Globe and Mail
Thursday, June 5, 2003
Portrait Artist: Barb Dorey
Portrait Art Photographer: Joe Chrvala
← Previous Inductee || Next Inductee →