Ken Clark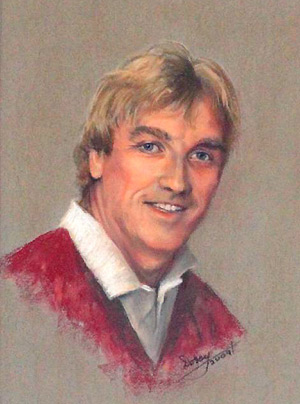 Inducted in 2009
Category: Athlete - Football
Ken Clark was a special member of a special team that awakened Canada in 1973 to the presence of an emerging college football power in the east, a region then painfully short of national recognitions in a sport with a relatively short history in the pigskin game. The loyalists in Atlantic Canada held stubbornly to the traditions of English rugby until some Navy intruders, many on military leave from the CFL, introduced a new brand in the early 1940's. In the next two decades, football made steady inroads into the public psyche thanks in great measure to a couple of naval converts to the region named Don Loney and Bob Hayes, now head coaches who began recruiting talent respectively to St. F.X. and Saint Mary's programs.
With a great eye for talent and student potential, Hayes reached into the Toronto area high school football pool, among other places, and in the early 1970's came up with some gems, not the least of which was a QB-Receiver team of Bill Robinson and Ken Clark that would play a major role in leading the Huskies to the promised land, a national Vanier Cup. Both became four time All-Stars in the Atlantic Conference and in 1973, Clark, the receiver, punter and placement kicker, won the conference scoring title with 85 points. He was also the Conference's nomination for the Hec Crighton Trophy awarded annually to the outstanding Canadian collegiate player. Robinson, who finished tight up behind in that voting, was also named Conference Most Valuable Player; a potent combination on a team that began the trek to the national title with a huge upset victory over the highly favoured Laurier Golden Bears in the Atlantic Bowl at Saint Mary's Stadium. Ken Clark scored the winning touchdown.
In his career at Saint Mary's, Ken did it all. He was league All-Star four times as receiver or kicker, led the AUFC in punting all four years, the league in scoring several times, and was co-captain and MVP of the 1973 Vanier Cup team with a performance that also included a record 86-yard punt. He also set numerous receiving records in what was then a shorter, 6-game season. Small wonder that when his college career ended at Saint Mary's, Ken was a much sought after professional commodity and chose to begin life among the pros as a member of the Portland Storm of the then budding World Football League where he led the league in punting in his rookie season. He repeated that accomplishment several more times as a member of Canadian Football League teams but (the Vanier Cup with Saint Mary's aside) Ken's finest hour as a professional had to come in 1979. As punter for the NFL champions and Super Bowl finalists Los Angeles Rams, Ken Clark reached the pinnacle of his pro career with a punting average of 40.9 yards and 93 points per season and as well he was 2 for 2 in passing and led the Rams with a 118.7 rating.
When his football career ended, Ken returned to his native Ontario and a business career that has him now located in Barrie, north of Toronto. Today he is back to take his rightful place among the athletic greats at Saint Mary's and renew acquaintances with teammates and old friends who have never forgotten their football heroes and whose name always comes up as a key member of a Vanier Cup championship Huskies team that sent a dozen players to professional ranks. Among them, they share 12 Grey Cup and NFL championship rings, including Hec Pothier and Angelo Santucci of the Edmonton Eskimos, Bill Robinson of the Ottawa Rough Riders and Ken Clark of the Los Angeles Rams. Today, this richly deserving athlete takes his place of honor in the Saint Mary's University Sport Hall of Fame.
Portrait Artist: Barb Dorey
Portrait Art Photographer: Joe Chrvala
← Previous Inductee || Next Inductee →