Hector Pothier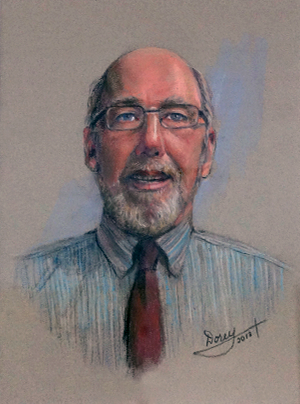 Inducted in 2013
Category: Athlete
Long before he became one of the best offensive linemen in Saint Mary's long football history, Hector Pothier was a 290 lb 6'3" Junior lacrosse and basketball player in St. Catherines, Ontario.
A smooth talking coach, Al Keith, and strong family ties in Nova Scotia brought Pothier to Halifax just in time to lead the Huskies to their first CIAU title in 1973. The title followed a 19-17 win over Wilfred Laurier in the Atlantic Bowl; a game in which Pothier said he was emotionally spent after the first quarter. A lesson he would learn from many times en-route to his selection as a 4 time Conference All-Star and a 3-time All-Canadian. And that lesson would pay off big time in the Huskies' 14-6 win at CNE Stadium a week later against the McGill Redmen. No one appreciated the pass blocking and athletic skills more than quarterback Bill Robinson. The receiving of Ken Clarke and Keith Hotchkiss and the running of Angelo Santucci would all benefit from the blocking of the large left tackle. Santucci would later win Grey Cup's in Edmonton with his former Saint Mary's teammate.
Twice nominated for the J.P. Metras Trophy as the CIAU's top lineman he would claim the trophy in 1975; a first for an offensive lineman in the AUS. No Saint Mary's lineman has won the trophy since Pothier.
As a professional he would win 6 Grey Cup's with the CFL's Edmonton Eskimos and would serve as an Eskimo captain in 1987 when they defeated Toronto. He would play alongside Eskimo legends like Warren Moon, Brian Kelly and Dan Kepley. He was a four time Western Conference All-Star and a two time League All-Star.
During his CFL career he was given the Tom Pate Award presented annually to the player that contributes to the community. This followed his long-time service to the Edmonton YMCA and coaching minor basketball.
After receiving his BA in history from Saint Mary's Pothier would earn a teaching diploma from McGill. He put that degree to good use when he entered the teaching profession in Edmonton where he would eventually become at principal at Kameyosek Elementary.
Portrait Artist: Barb Dorey
Portrait Art Photographer: Shannon Doane
← Previous Inductee || Next Inductee →