Frank Archambault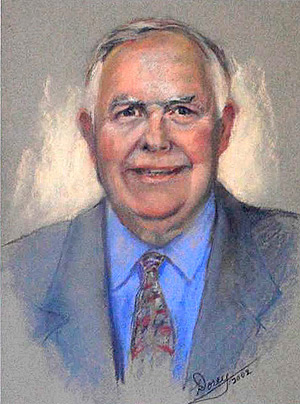 Inducted in 2002
Category: Athlete - Football
The 1964 Huskies Football Team, although slight of numbers, was blessed with some very talented athletes, including tackle Frank "Arch" Archambault, who is the only player from the Atlantic conference ever selected All Canadian on offense and defense in the same year.
The Hall of Fame Huskies captured the prestigious Atlantic Bowl championship that fall turning back McMaster Marauders 15-1 before 4,000 college football fans on a soggy Wanderers Grounds in Halifax. It was the fifth win for an Atlantic conference team in six years in the Atlantic Bowl and Saint Mary's first.
Linemen don't often get headlines for their work in the trenches. However, the "ferocious four" in the Huskies' front line of Archambault, Pete Grant, Stu MacDonald and Bob Johnston "turned in their strongest defensive performance of the season" helping to hold McMaster to 65 yards total rushing and minus 15 yards passing. But this wasn't a one-game season and the stars for Saint Mary's were many. It took a solid team effort to put up wins like 73-20 over Mount Allison, 49-0 over UNB, and 27-0 over Shearwater Flyers in the nine-team league. After a 0-2 start the Huskies outscored their opponents 258-0 in a 6-0 stretch. It was also the season of the "Upset" when the Huskies ended Saint Francis Xavier's 47-game winning streak. The offense was potent, but the defense was awesome.
Archambault was a key to that team playing both ways at tackle. At season's end he was selected first team All Canadian at offensive tackle and second team All Canadian at defensive tackle, an unbelievable accomplishment in just his second season. He was called the "Big Man" and was indeed that by 1964 standards at 275 pounds. Archambault was first team All Conference at both positions. One of the last of the "60-minue men" Archambault says the players didn't know the difference then, "Most of us played both ways in high school, so this wasn't anything different. We had fun."
But the key for Archambault was the scheme of defense designed by Coach Bob Hayes. "The defense was broken up into two and three man units. It was very confusing for the offense. They couldn't predict what we were going to do. We wanted to win because of Hayes. He was never satisfied with just a win. There was always something we could do better. You didn't want to face him Monday after a loss." Besides playing football, this '68 graduate also excelled in track and field.
Archambault is Vice-President of Norlite Corporation in Cohoes, New York, and has raised four children, all university graduates, with the aid of his wife, Diana, of more than 36 years. Arch and Diana also have six grandchildren. He continues to be a loyal alumnus.
Portrait Artist: Barb Dorey
Portrait Art Photographer: Joe Chrvala
← Previous Inductee || Next Inductee →