Father John J. Hennessey S.J.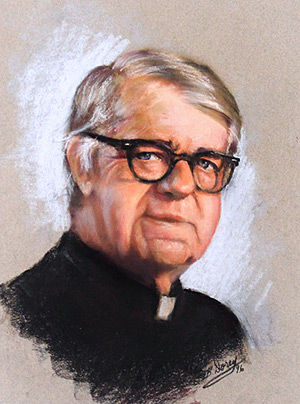 Inducted in 1995
Category: Builder
Few administrators in the history of Saint Mary's University played as many roles in the spiritual, academic and athletic well being of the school as the late Father John J. Hennessey, S.J. Fewer still were as admired, respected and beloved in the relatively short time he served officially from 1961 to 1972. They were years of immense growth at Saint Mary's, in an athletic sense from a small school with a modest enrollment to a place of distinction on the Canadian University athletic scene. Father Hennessey was without question the Huskies spiritual leader as well as their finest champion.
He was a familiar figure wherever and whenever Saint Mary's teams performed, stalking the sidelines of football stadiums, basketball courts and hockey arenas across the nation with the familiar cane; retreating frequently in the heat of the battle to a quiet place for moments of private prayer, not necessarily to ask for special privilege, but rather for the help required to take his teams as far as their talents would reasonably allow.
It was fitting and proper that upon his death in 1982, his famous cane became the property of the person who perhaps loved and appreciated Father Hennessey more than anyone else - Athletic Director, Bob Hayes. It is more than fitting that these two great men should be the first inductees into the Sport Hall of Fame & Heritage Centre at Saint Mary's University.
From his honored place in the afterlife, we have no doubt that "The Hen" looks down today with that tight smile of approval at this inaugural event to honor those who have contributed so mightily to the Saint Mary's sport tradition. His considerable modesty would preclude personal rejoicing but he would recognize these as the extensions of the Father John J. Hennessey, S.J. Medal awarded annual to the student who best represents and upholds the spirit of the University. In his own immortal words, "Love God, your fellows, and Saint Mary's."
Portrait Artist: Barb Dorey
Portrait Art Photographer: Joe Chrvala
← Previous Inductee || Next Inductee →