Elizabeth A. Chard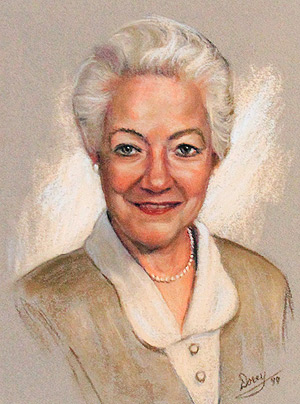 Inducted in 1999
Category: Builder
Elizabeth A. Chard has been associated with Saint Mary's since 1961. She taught history throughout the 1960's and early 70's and has been the University's Registrar since 1973. For the past 30 years she has also been active as a builder in intercollegiate and disabled sport associations on a local, regional, national and international level. From her role as faculty advisor to women's athletics at Saint Mary's she served as President of the Atlantic Universities Athletic Association. She was also the first female and first nonathletic director to serve as President of the Canadian University Athletic Union, a post which she held for four years. Elizabeth continues to monitor the academic performance of student-athletes.
In 1985 she was Assistant Chef de Mission to FISU, the World University Summer Games held in Japan and two years later was the Chef de Mission for the Games held in Yugoslavia. She co-chaired the Summer Games Organizing Committee for the Nova Scotia Special Olympics for over a decade and cochaired Nova Scotia's successful bid to host the 1994 National Special Olympic Summer Games. She helped organize the Pan-American Wheelchair Games in 1982 and was co-chair of the 1983 World Wheelchair Basketball Championships. Elizabeth continues to serve the athletic community in various capacities and in 1998 she was inducted as a member of the Nova Scotia Sport Hall of Fame.
Her three decades of service to athletics have earned Elizabeth A. Chard induction to the Hall of Fame in the Builder category.
Portrait Artist: Barb Dorey
Portrait Art Photographer: Joe Chrvala
← Previous Inductee || Next Inductee →