Dr. Robert A. Ruotolo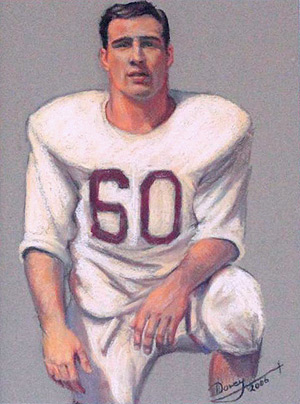 Inducted in 2006
Category: Athlete - Football
Dr. Robert A. (Bob) Ruotolo made his athletic mark at Saint Mary's in football, a remarkable career that extended from 1960 to 1965 and was highlighted by an Atlantic Bowl victory with the Huskies in 1964. What is less known about Ruotolo's choice of Saint Mary's to begin his university studies is that, as a high school goaltender as well as football player in Wolfeboro, New Hampshire, he was drawn to the school in the hope of playing for the hockey Huskies - perhaps the reason he turned down a football scholarship at Wichita, Kansas.
Arriving early in 1960, the 17-year old was met by Father Rushman, the Dean of Men and football aficionado, who immediately steered young Mr. Ruotolo in the direction of football coach Bob Hayes and the rest, as they say, is a matter of record. His exceptional contributions to the University's athletic program as a player, his continued support of the athletic program, his leadership in the community, strong character and exceptional academic and professional achievements since graduating have been well documented.
Bob Ruotolo began his football career as a halfback at Brewster Academy where he became a lettered athlete in football and hockey and by the time he reached Saint Mary's he was being described as "a 17-year old, 5'8", 175lb powerful running back", playing in tough company. The early 1960's Atlantic Football Conference was a mix of college and service teams, St. F.X., Shearwater Flyers, Stadacona Sailors, Dalhousie Tigers, UNB Red Bombers, Mount Allison Mounties and Saint Mary's as well as the era of colourful coaches like Hayes, Don Loney at St. F.X. and Gus MacFarlane at Mount A.
For 17 year olds it meant growing up quickly and the realization that the Huskies, still maturing as a team, were sometimes in over their heads against older and/or more experienced oppositions. The first painful lesson came in the first game, September 21, 1960 under the lights at Wanderers Grounds when the Huskies were bombed 42-0 by St. F.X., a night young Mr. Ruotolo might have had second thoughts about Wichita.
Things gradually improved of course, the team grew better and so did Bob Ruotolo who steadily built a reputation as a tough, hard-nosed middle-linebacker who captained the defensive unit and took no prisoners. He also become recognized and admired by his teammates for a strong work ethic as well as character, skills and leadership. He was chosen Defensive Back Conference All-Star for three of his five years at Saint Mary's. In 1964, he was elected All Canadian First Team Middle Linebacker.
1962 was a winning season for the Huskies, with quarterback Dave Murphy's offense and Ruotolo's defensive corps leading Saint Mary's to a winning season and first appearance in the Purdy Cup. In 1963, the Huskies were quarterbacked by present Athletic Director, Dave Murphy, and with Ruotolo's defensive partners leading the way, Saint Mary's set a record by shutting out opposition teams six times. Ruotolo was in top form again in 1964 when the Huskies won the Atlantic Bowl in his final year of eligibility.
Bob later graduated from the Maritime School of Social Work with a Masters Degree, received a Ph.D. from the University of Pennsylvania in 1973, returned to teach at Dalhousie University then entered the business world in Toronto. Married to Pat Findlay of Halifax, the Ruotolo's now live in Phoenix, Arizona where he has established Quantum Performance Institute - a counselling and consulting firm. Bob is Past President of Saint Mary's Alumni Association, Past Member of Saint Mary's Board of Governors and member of the "Old Dogs'" Club.
For the record, it should be noted that Bob Ruotolo did have a hockey career at Saint Mary's, however brief and successful it might have been. In 1962, regular Huskies goalie, Mike Antle, was injured. Ruotolo replaced him for one game and blanked Acadia 1-0. Dr. Robert A. Routolo - forever a Huskie and most worthy addition to Saint Mary's Sport Hall of Fame.
Portrait Artist: Barb Dorey
Portrait Art Photographer: Joe Chrvala
← Previous Inductee || Next Inductee →