Dr. David Petrie, MD, FRCSC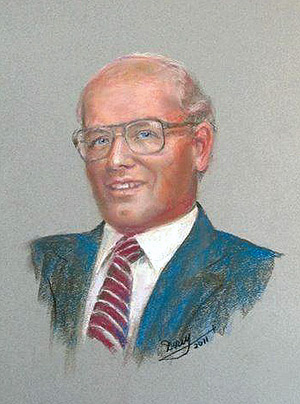 Inducted in 2011
Category: Builder
Dr. David Petrie never scored a goal, returned a punt or dunked a basket in his 30 years with Saint Mary's Huskies, but as team physician he cared passionately about those who did and attended them with professional skills and personal attention. His judgement on the availability of injured players was impeccable and only the short and long term health of his student-athletes really mattered. What was most remarkable about David's longevity among Huskies teams in so many categories was the fact that he was otherwise well established as one of Canada's best and most sought after orthopeadic surgeons. Yet he managed his time to pace the sidelines at football games, rinkside at hockey, the courts of basketball, etc., hoping his services would not be needed by "his boys" but ever at the ready if they were.
As a native Montrealer, Dave grew up in a sports environment, played basketball and golf at the university level while sharing every Quebecois passion for the Montreal Canadiens. His initial brush with the Maritimes came as he completed a Bachelor of Arts at UNB in Fredericton before moving on to graduate from McGill Medical School in 1964. From there he completed a Fellowship in Orthopeadic Surgery at the University of Toronto before moving to Halifax to begin practice in 1970. By sheer coincidence, his beloved Canadiens at that time were setting up shop in Halifax with their AHL farm team, the Nova Scotia Voyageurs, and it was an immediate match. David became the Vees team physician through their championship years, attending to the Habs future greats in Montreal. When Canadiens moved their franchise, Dr. Petrie turned his full attention to his beloved Huskies and remained on the job until his retirement in 2009, on the sidelines during several national championships. He enjoyed the complete confidence of every AD beginning with Bob Hayes, and every player and trainer because they respected his judgements and knew that Dr. Petrie's foremost concern was the health of "his boys".
A full professor in the Department of Surgery, Faculty of Medicine at Dalhousie, his professional specialty was joint anthroplasty (replacement) surgery, orthopaedic trauma, fractures and other injuries, as well as an ongoing interest in sports medicine. He received an Honorary Doctor of Science Degree from Saint Mary's in 2001, served as President of the Canadian Orthopeadic Association and was a founding member of Hip Hip Horray, a charitable walk that the association holds every spring to raise funds for orthopeadic research. The event has raised over ten million dollars for research, education and patient care. Dr. David Petrie died in 2009, leaving his wife, Eileen, children Sarah, Christopher and David, and a legacy of faithful service to the Saint Mary's athletic community, a high degree of motivation in both sports and life. A most distinguished and most worthy addition to the Saint Mary's University Sport Hall of Fame.
Portrait Artist: Barb Dorey
Portrait Art Photographer: Joe Chrvala
← Previous Inductee || Next Inductee →