Dr. David Murphy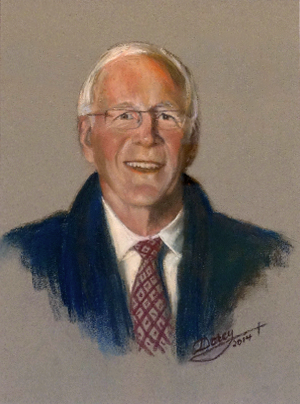 Inducted in 2014
Category: Athlete, Builder
Scholar, athlete, coach, builder - four words that sum up Dr. Dave Murphy and are the building blocks to a long and dedicated career supporting Saint Mary's.
'Murph' came to Saint Mary's in 1962 from Portland, Maine and in his first season at the quarterback position wearing the maroon and white he was named 'Rookie of the Year'. He was the MVP in 1964 when he led the Huskies to their first ever Atlantic Bowl title.
Before becoming an Oral Maxillofacial Surgeon and Chief Medical Officer at Dartmouth General Hospital, Dr. Murphy somehow found time to serve as offensive co-ordinator for his old teammate Al Keith, when the Huskies won their first CIAU football championship in 1973.
Dave would concentrate on his medical responsibilities until answering the call from the school he had already served so well; this time he would fill the role of Athletic Director in 2003.
He would retire from that position only to return for a second stint as AD that would last for another 3 years. From the very beginning in his role as Athletic Director, Murphy stressed academics with athletics. During his tenure, Academic All-Canadians at Saint Mary's rose from 21 to 71. He took pride in growing the Saint Mary's 'Super Auction' and was instrumental in starting the 'Old Dogs' for football and the 'Ice Dogs' and 'Soccer Dogs'. The three programs raised over one million dollars for assistance to Saint Mary's athletics.
Murphy also served on the Saint Mary's Board of Directors and was president of Atlantic University Sport in 2005 and again in 2007.
Basketball legend Brian Heaney said this of Dr. Murphy: 'His spirited stand for excellence in the classroom and for citizenship and community service for all Huskie athletes and for their competitive zeal in competing at the highest level of AUS and CIS sport has been a key component in the confidence, spirit and self-esteem for hundreds of young men and women who don the maroon and white and who contribute to a sports heritage that is unmatched in Atlantic Canada Universities for the past 50 years.'
Heather Hayes, the wife of the late Bob Hayes, legendary coach and athletic director at Saint Mary's, spoke for many when she said, 'Dave has helped preserve the proud tradition of the Huskies while ensuring a progressive future for today's student-athletes.'
Few have given more or represented Saint Mary's in so many different ways both athletically and academically than Dr. Dave Murphy.
Portrait Artist: Barb Dorey
Portrait Art Photographer: Shannon Doane
← Previous Inductee || Next Inductee →