Don Murphy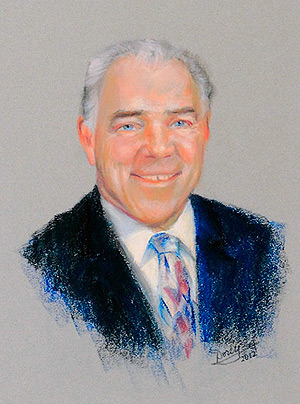 Inducted in 2012
Category: Athlete - Football
Football player, Christopher Donald Murphy, made an immediate impression in his 1964 freshman year. Intelligent, tenacious and virtually unstoppable, he was selected as an All-Canadian at the linebacker position, an Atlantic Conference All-Star and runner-up for League Rookie of the Year.
Murphy was a consistent player with an amazing ability to diagnose plays and break them up. In his position as a rover, he was allowed to roam wherever he anticipated the play, and in his roaming, he was rarely wrong.
Known throughout the Maritimes as a fast and fierce competitor, Murphy enjoyed beginning a game with a solid hit on the opposing Quarterback---just as a reminder of things to come. Once his reputation as a hard hitter spread around the league, other teams began to avoid running or passing to his side of the field.
During his three seasons at Saint Mary's from 1964-1967 Murphy was a two-time All-Canadian and three-time League star. Lauded as the best defensive player in Canadian University football, he led the team by his intensity, both in practices and on game days.
In his senior year at Saint Mary's, Murphy made the jump to professional football as a rookie for the CFL's Montreal Alouettes. After a serious shoulder injury, he returned to school to complete his undergraduate degree at Trent University and later attended Peterborough Teachers' College for a Bachelor of Education, and later a Master's degree.
Football's loss was education's gain. As a teacher, Murphy coached at the Junior ORFU and high school levels and personally sent many recruits to Saint Mary's as student-athletes. A Principal in Peterborough, Ontario for 25 years, he retired in 1998. He still keeps his hand in the athletic arena by playing for the Master's Division of the Ontario Provincial Rugby team.
Dr. David J. Murphy was a teammate of Don Murphy's in the 1960's. The former Saint Mary's coach and Athletic Director said that Murphy was without a doubt the best linebacker of his time in Canada. For fellow teammate Paul Puma, Murphy epitomized what Saint Mary's teams were to become: tough, proud champions.
Portrait Artist: Barb Dorey
Portrait Art Photographer: Joe Chrvala
← Previous Inductee || Next Inductee →