Dianne Chiasson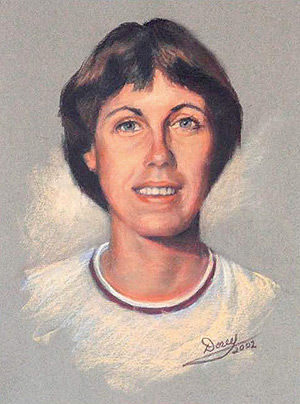 Inducted in 2002
Category: Athlete - Basketball and Field Hockey
This Auburn, NS native was a two-sport star at Saint Mary's University in the late 1970s and early 1980s excelling in both basketball and field hockey.
She was Saint Mary's Female Rookie of the Year in 1978 as well as MVP of the basketball team. The following two years she was selected Female Athlete of the Year and again Athlete of the Year in 1981. She was selected All Conference on numerous occasions for both field hockey and basketball and received All Canadian honors.
At one point she had scored 13 goals in 11 games for the field hockey team and led the league and was also leading scorer and rebounder for the basketball team.
While her athletic prowess is legend at Saint Mary's, her academic achievements have been an inspiration to others as well. She earned a full academic scholarship each year at Saint Mary's, accumulating 14 A's in 15 courses and was interviewed for a Rhodes Scholarship. In her spare time she filled two spots on University Senate committees and helped out in the Art Gallery. As a volunteer Dianne has worked with Nova Scotia Special Olympics, Jazz Festival, East Coast Music Awards and Support Services Group Cooperative Services.
Professor Edward McBride, former professor of political science at Saint Mary's, put Chiasson's success this way in an article in The Chronicle Herald when he remarked that, "Success results from character imparting discipline to talent. Dianne Chiasson has all those credentials for success. Her talent makes her one of the best athletes Saint Mary's has produced and her talent makes her one of the best students. But most importantly, her character makes her combine her talents through self-discipline, so that she excels in two different fields at once."
Dianne was always able to keep things in perspective during her career at Saint Mary's when she was quoted as saying, "Academics come first and athletics is a bonus on top. When I feel I cannot handle both, I will drop athletics." It never happened.
Chiasson took up marathon running three years ago competing in the Valley and Ottawa races where she qualified for and ran the Boston Marathon last year.
Portrait Artist: Barb Dorey
Portrait Art Photographer: Joe Chrvala
← Previous Inductee || Next Inductee →