Chris Flynn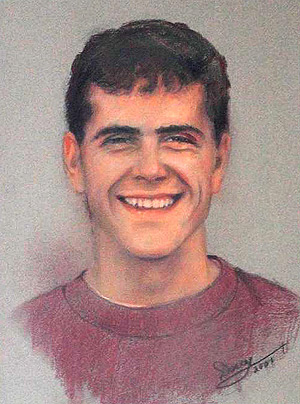 Inducted in 2001
Category: Athlete - Football
From 1987 to 1990 was, arguably, the most dynamic chapter in the history of Saint Mary's football and, by extension, the Atlantic Universities Football Conference. It was the Chris Flynn era at Saint Mary's and the pivotal figure at the center of excitement was a 6'2", 190lbs. package of talent and imagination out of Buckingham, Que. who would become the most dominant football player in the CIAU for four years.
He was the eminence grise among Canadian college quarterbacks; the guy who could do it all mechanically, yet through an intuitive art of improvisation had an uncanny ability to call the right play in any given situation. As a freshman out of Bishop's college, a prep school in Sherbrooke, he performed mostly under directions from the bench. But it didn't take Head Coach Larry Uteck long to realize this was a young man of rare gifts and an analytical mind. The sight of Chris Flynn scrambling in the backfield, warding off defenders and controlling the play until he uncovered his receiver was a sight that fans will forever cherish in the career of an exceptional athlete.
His individual distinctions were awesome; four-time AUAA All-Star QB; three-time CIAU All Canadian QB; CIAU records for most TDF passes in a season and career; leading rusher QB in CIAU history; and the ultimate mark of greatness, his unprecedented three times as national MVP Hec Crighton Trophy winner. From 1987 to 1990, Chris led Saint Mary's to a 27-2 regular season record, both losses coming on the road in 1987; four AUAA championships; a 2-2 record in four Atlantic Bowls; and two Vanier Cup appearances. In 1988, Chris had to sit out the national final with a fractured skull and in 1990 he had to have his separated right shoulder frozen to enable him to play. In 1988, '89 and '90, Flynn and the Huskies lost only three games, one each season and all to the eventual national champions.
After leaving campus, Chris continued his football career in France.
The determination which he had displayed on the gridiron was also exhibited in the hall of academe. He continued to pursue his studies, graduating in May 1997 with a Bachelor of Arts degree from Saint Mary's University.
Portrait Artist: Barb Dorey
Portrait Art Photographer: Joe Chrvala
← Previous Inductee || Next Inductee →