Charles Goddard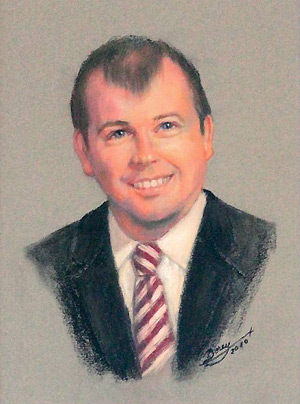 Inducted in 2010
Category: Athlete - Hockey
Have pads, will travel.
That might be a capsulated version of Charles R. (Chuck) Goddard's hockey career but it would hardly do the well-spoken, highly skilled goaltender justice. The upper Canadian native certainly did not follow a conventional road to college hockey stardom.
Goddard arrived at Saint Mary's University in the fall of 1969 and proceeded to lead the south-end Halifax campus to four straight CIAU championship tournament berths and three finals. During his career he earned four AUAA All-Star nominations, an All Canadian nod and was named the MVP of the 1970 CIAU championship final. Toss in a Saint Mary's Male Athlete of the Year award in 1971-72 and it was a pretty dominant period for Goddard, who backstopped the Huskies to 81 wins and just five losses in league play from 1969 to 1974.
"Quality, quality, quality," said former teammate Brian O'Byrne, in assessing Goddard's play during the golden years at SMU. "He was the best, a "difference maker'. I knew from playing with him in Peterborough with the Petes that we immediately had a good shot at the national championship. Make no mistake, this guy could play and he hated losing. He definitely was the key to SMU/Atlantic aspirations in the late 60's and early 70's."
But long before he rewrote the record books at SMU including breaking the CIS record for shutouts in league play, Goddard was already making a name for himself. He first displayed his exceptional puck stopping skills by leading his bantam team to an Ontario Minor Hockey Association title. The following year he guided his midget squad to an OMHA crown.
The next five winters were spent with the OHA's Peterborough Petes and Niagara Falls Flyers, a team with whom he won a Memorial Cup in 1965.
Goddard joined the Eastern League where he spent a couple of years playing for Charlotte and Jacksonville. In a twist of fate, it was Jacksonville where he played for half a year with Bob Boucher, the man who would go on to be his coach at Saint Mary's. The two year stint in the Eastern circuit was followed by two seasons in the American League, one with Memphis and the other with Cleveland.
In Barrie, Ontario, working and playing senior hockey at the time, Goddard was tracked down by some SMU buddies. Into the picture stepped Bob Boucher and Bob Hayes, then Athletic Director at SMU. "I really consider Boucher and Hayes humanitarians because they provided people like me a chance to come back to university and do things for themselves, the school and the team. Thanks to them I wound up with my B.Sc. and B.Ed. To me that was the highlight (of my college career)."
Portrait Artist: Barb Dorey
Portrait Art Photographer: Joe Chrvala
← Previous Inductee || Next Inductee →