Brian Ross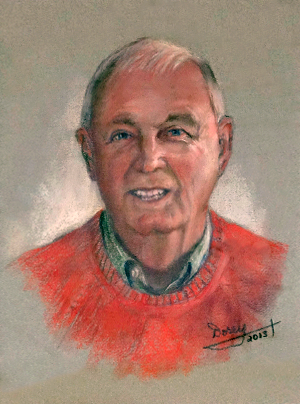 Inducted in 2013
Category: Athlete
"It was a fluke."
That's how Brian Ross ended up at Saint Mary's. He came from a poor family of 6 in Halifax and was destined to work to help support the family after leaving Grade 12.
Because he sang in Father Jim Mills' choir a small church scholarship meant he would become the first of his family to enter University. His basketball career didn't begin until Grade 8 at Saint Mary's Boys school which was missing one important facility, a basketball court. To sharpen his game he spent summers just outside Digby shooting baskets through a homemade hoop; practice that would make him a jump shot artist. He entered St. Mary's in 1955 and his 12 points would lead the Huskies to a first ever win over St.F.X. That same season a 33 point game would lead Saint Mary's to victory over Stu Aberdeen's Acadia Axemen. He would finish his rookie year with 178 points. With the help of teammates like Billy Mullane and Freddy Walker, Ross would lead the Huskies to a first ever NSIBL regular season title in '58-'59 but they would lose to St.F.X. in a best of 3 final. He finished his four years on court with 655 points and led the Huskies in scoring in each of his four seasons. When you consider the season ran from December to early March those numbers are impressive. In 1958 the new football coach at Saint Mary's Bob Hayes was so impressed with the catching ability of Ross that he extended an invitation to play for the Saint Mary's Jr. Football Team. With Ross catching passes they were the Jr. Champions.
On one occasion he rushed from football practice to play in a basketball game. Ross gave new meaning to the term 'student-athlete'. As if two sports weren't enough Ross somehow found time to work with the Student Council, take over as President of the Amateur Athletic Council, serve as secretary of the National Federation of Sports and sing 'Peg of My Heart' in the Glee Club. All this and in 1959 Ross was Saint Mary's Athlete of the Year. In the years ahead he would run one of the most successful Ford dealerships in the Maritimes.
Portrait Artist: Barb Dorey
Portrait Art Photographer: Shannon Doane
← Previous Inductee || Next Inductee →