Brian Heaney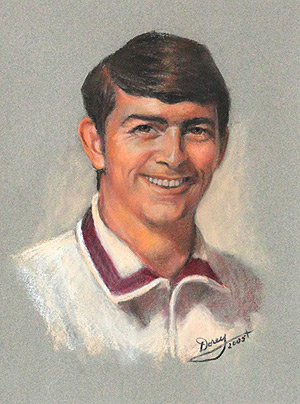 Inducted in 2005
Category: Builder
Any effort to capture the essence of Brian Heaney in a few short paragraphs from an extended list of accomplishments can be akin to trying to capture lightning in a bottle; destined to fail. So where do we begin the short synopsis from such a resume of accomplishments at Saint Mary's as a coach, manager and promoter? Perhaps by tracing his path of arrival, from All-Star player status with arch rival Acadia Axemen out of Bishop Loughlin High School in Brooklyn, N.Y. in the late 1960's to a professional career as the first Canadian-trained player to play in the NBA with Baltimore Bullets in 1970, followed by his appointment as head coach of the Huskies in 1971.
With the Axemen he had one of the greatest playing careers in Canadian college basketball history, earning All Canadian honours, winning a National championship and scoring a recordshattering 74 points in one game. That is a record that has gone unchallenged. But it was as a coach who championed the game across the province with imaginative ideas and unique promotional skills that Heaney realized some of his greatest moments at Saint Mary's. He took the Huskies outside to rural communities to practice and raise awareness of the University and the image of the game. In 1971 you could count on one hand the number of outdoor hoops in the city but Heaney's influences led directly to today's levels of participation.
He built the Huskies program carefully and quickly and by spring 1973 delivered Saint Mary's first ever national championship while being chosen by his peers across the nation as CIAU Coach of the Year. He also became the first to win a national title as both player and coach. In 1974 the Huskies again went to the national final and he took a leave of absence in 1975 to coach Canada's National Women's team and in 1976 took that team to the Olympic Games in Montreal. By the 1977-78 season Brian was back at Saint Mary's and the Huskies marched to their second national crown by defeating Acadia before a record 11,000 fans at the brand new Halifax Metro Centre, a crowd drawn largely through Heaney's promotional wizardry. It was the crowd that established Halifax's self proclaimed status as the basketball capital of Canada. In 1978-79 the Huskies won again in Calgary for their third national title.
Heaney is now one of Canada's top NBA and CIS broadcasters, also a leading insurance executive in Toronto where he resides with wife Liana (Hynes) of Halifax but his SMU presence lives on. In 2002 he was Honorary Chairman of the CIS Men's Basketball Championships and continues to keep in touch with prize recruit Ross Quackenbush, current head coach of the Huskies men's team and other members of that 1970's dynasty. Many of Brian's protégés continue to contribute to the game in minor and other basketball roles, Peter Halpin, Greig Redding, Bob Tabosky, Fred Perry, Mickey Fox, John Gallinaugh, Lee Thomas, Taps Gallagher, Terry O'Neil, Peter MacAllister and team manager John Landry.
Brian Heaney is warmly welcomed home today as a most worthy 2005 Inductee into Saint Mary's Sport Hall of Fame.
Portrait Artist: Barb Dorey
Portrait Art Photographer: Joe Chrvala
← Previous Inductee || Next Inductee →