Bill Scollard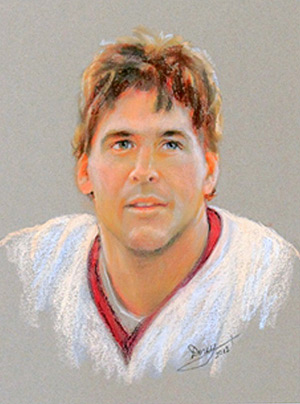 Inducted in 2012
Category: Athlete - Football
He was hailed by Huskies' Head Coach Larry Uteck as a coach's dream; a dynamic presence who rose from relative high school obscurity to write a unique AUS and ultimately CIAU football story. Burlington, Ontario native Bill Scollard was a five-year starter for the Huskies from 1985 to 1989, captain of the team for four seasons. A versatile All-Star receiver, kick returner and punter, Scollard was widely acclaimed by players and coaches as a natural leader, the guy who could deliver the message when necessary without appearing to impose himself; a rare commodity.
Scollard played on three AUS championship teams and in three Atlantic Bowls including the 1988 Bowl win over the Bishop's Gaitors. That led to his most memorable moment: the 24th Vanier Cup game at Varsity Stadium in Toronto when he came very close to pulling off the impossible dream. The Huskies didn't have a backup quarterback that year and when superstar Chris Flynn went down with a season ending injury against Bishop's, Scollard was pressed into duty by coach Uteck; prepared for the challenge by never having thrown a ball in a regular season game! What happened had all the trappings of a great movie. "His greatest moment' wrote Herald sports editor Hugh Townsend, "was when he stepped in as quarterback and set Vanier Cup records for passing attempts and completions, 27 of 47 for 296 yards'.
Offensive coordinator during Scollard's playing days, Bill Robinson says the Burlington native's greatest quality was his ability to elevate the play of those around him; "with his competitive nature on the field, Bill was a true leader who was looked upon as a mentor and role model by his teammates'. Bill was an 8th round CFL draft selection by the Hamilton Tiger-Cats in 1988 and the following year was recognized as a CIS All-Canadian. He graduated from Saint Mary's in 1989 with a degree in Commerce, made Halifax his adopted home and has continued to give back to his community by supporting Atlantic University Sport through his 21-year association with Labatt. He has served twice as a Huskies' assistant coach and head coach at J.L. Isley High School while enjoying life with his bride of 19 years, Deanne, son Connor and daughters Cailin and Gabrielle.
What makes the Scollard story so unique is that his high school football career included only two winless seasons, followed by two years playing in the Ontario Jr. Football League with no real plans for his future. All that changed with a 1985 phone call from his friend and Huskies' place-kicker Jerry Foster who advised him that SMU coach Larry Uteck might be receptive to an inquiry. After another phone call, there followed a remarkable career for the kid who arrived in 1985 with little or no credentials to become the undisputed leader of what was perhaps the Huskies' greatest era of football excitement and success. Bill Scollard, a most worthy inductee into the 2012 Saint Mary's Sport Hall of Fame.
Portrait Artist: Barb Dorey
Portrait Art Photographer: Joe Chrvala
← Previous Inductee || Next Inductee →