Bill Robinson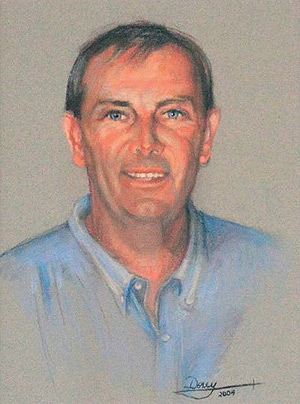 Inducted in 2004
Category: Athlete - Football
After watching Bill Robinson warm up prior to a High School All-Star Game, Saint Mary's Hall of Famer Al Keith knew Bill was the ingredient needed for a run at the Vanier Cup. Bill was secreted to Halifax where the final recruitment process was ably carried out by Bomber Forbes.
Although Bill was an immediate star at Saint Mary's and a major contributor to the team's success, the Vanier Cup would be elusive for his first years at Saint Mary's. Bill was AUFC All-Star quarterback for all of his four years at Saint Mary's; Rookie of the Year 1970 and Most Valuable Player 1971, 72, and 73. He quarterbacked the Huskies to three consecutive 8-0 seasons which resulted in AUFC league championships. He constantly and consistently led the AUFC in all passing categories.
Bill had all the physical attributes of a great quarterback. He could pass and run but his biggest assets were his leadership, knowledge of the game, and fierce competitiveness. Bill hated to lose.
The bitter memories of Atlantic Bowl losses in 1971 and 1972 hardened the resolve of the entire Huskies team as they were led by Bill in the Atlantic Bowl of 1973 against a mature Wilfrid Laurier Team. Bill threw the winning touchdown pass in the last two minutes of the game to secure a 19-17 win. The next week he led the Huskies to a 14-6 win over McGill to win the first Vanier Cup, emblematic of the Championship in football, for Saint Mary's University. Saint Mary's University was the first Atlantic university to win a National Championship in football.
After leaving Saint Mary's and still having another year of eligibility, Bill took his considerable talents to the University of Western Ontario where he successfully led them to a 10-1 season and the National Championship. En route he was voted team MVP and All Canadian Quarterback.
Bill was drafted and played for the Ottawa Roughriders of the CFL from 1975-78. He was a member of the 1976 Grey Cup Champions.
Outside of football, Bill has been a committed contributor to Saint Mary's University and the community. He was an assistant football coach and offensive coordinator for the Huskies from 1985 to 1994; member of the Alumni Association's Board of Directors; chaired the AUS Women's Basketball Championships for Saint Mary's and has assisted the men's basketball team with fund raising. He was a keen supporter of his two Huskie children, Kristi Jo (Basketball, B. Comm. 2001) and Billy (Football), never missing a game in which they played.
Bill was the Chair of the Mayor's Task Force on Drugs; Chair of the Atlantic Bowl (12 years) and its Honorary Chair one year. He chaired the CIS Final Eight Basketball Championships for eight years. He is presently CEO of the Nova Scotia Sports Heritage Centre.
Saint Mary's University is pleased to induct Bill Robinson, B. Comm. 1974, student-athlete, coach and community minded citizen as a player into its Sport Hall of Fame.
Portrait Artist: Barb Dorey
Portrait Art Photographer: Joe Chrvala
← Previous Inductee || Next Inductee →