Bill Mullane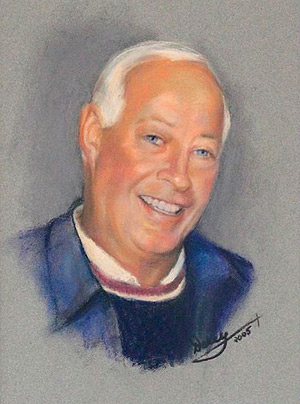 Inducted in 2005
Category: Athlete - Basketball
Billy Mullane can only be described as an enormously gifted athlete who most likely could have qualified for hall of fame status in any of the many and varied athletic disciplines in which he excelled. But it was basketball that finally claimed his full attention under difficult circumstances. In the mid-l950's, after being a school standout in multiple sports at St. Pat's High in Halifax, Billy was recruited by St. F.X. to become part of what was then a hockey dynasty but the fates intervened. When his dad was diagnosed with Muscular Atrophy, Billy's sense of family compelled him to remain closer to home and he made a decision to enroll in engineering at Saint Mary's.
His original intent was to play hockey, his first love in life, and basketball, but after making the varsity hoops team he was informed by the late Father J.J. O'Donnell that rules confined him to one sport and he had made a commitment to basketball. The rest of the story is a matter of historic record; Billy Mullane became "The Shooter", the finest college basketball player of his years (1956-59) at Saint Mary's. In his rookie season he was among the top five scorers in the Intercollegiate League and in a semi-final playoff game against Acadia Axemen, he registered an astonishing 43 points as Billy Mullane's college career was launched toward stardom.
In his second year he averaged 12 points a game, finishing fourth in the scoring race with 98 points in 8 games and then proceeded to take full charge in his third and graduating year. It was a memorable performance, both by the Huskies who finished first in the league under kindly coach Frank Baldwin, "Mr. Basketball", and "Shooter" who averaged 19 points a game including a sensational 50 in one game against Nova Scotia Tech that set a new Maritime Intercollegiate record. After graduation in 1959, Billy Mullane went on to obtain an Electrical Engineering degree from Tech and after the passing of his dad in 1968 he moved on to University of Western Ontario to realize another dream, of getting an MBA.
Nova Scotia has produced a number of outstanding multi-sport athletes over the years, none better than Billy Mullane, a surpassing softball pitcher who led Halifax Schooners to many softball championships in the 1960's and a bowler of great distinction. But his love for hockey was renewed when he settled into Moncton and began a career in Oldtimers hockey that was cut short by a car accident that cost him the use of a leg in 1998. Undaunted, he resumed his golf career and now has his sights set on winning the club championship.
Billy Mullane was among the early contributors to a Saint Mary's varsity athletic program that began taking shape in the 1950's and eventually blossomed into a major national presence under the guiding hand of Athletic Director Bob Hayes beginning in the early "60's. He set new standards for a basketball program, helping to lay the groundwork that would eventually produce three national championships under the direction of fellow inductee Brian Heaney. Billy Mullane - a Saint Mary's Hall of Famer in every sense of the term.
Portrait Artist: Barb Dorey
Portrait Art Photographer: Joe Chrvala
← Previous Inductee || Next Inductee →