Andrew Conrad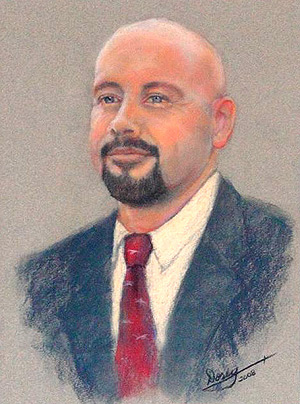 Inducted in 2008
Category: Athlete and Coach - Track & Field and Football
Over the years spanning 1990-2000, Andrew Conrad was a high performance multi-level athlete and coach who left an indelible mark on Saint Mary's athletic programs for his skills and leadership. From 1990-94, Andrew competed in track and field for the Huskies as a sprinter and hurdler, and was team captain in '92 and '93 before missing the 1994 season because of a serious injury. Over his career as a Huskie, he won three AUAA championships, two while setting records in the 60-meter hurdles that hold to the present time. The third was as a member of the championship-winning 4 X 200 meter relay team in 1992. Later that year he represented Saint Mary's at the CIAU championships in Winnipeg and again at the Toronto Skydome in 1993. In each of those years, he was also nominated for the James Butler Trophy as Saint Mary's Male Athlete of the Year.
In 1991, Andrew went well beyond the call of athletic duty when he volunteered to solicit local businesses to obtain much needed sponsorship funding for the track and field team and later conducted a replacement search for a departing team coach. That search led to the recruitment of Debbie Brown who held the position for 13 years. In each instance, Andrew showed remarkable commitment to the track and field program as well as to the University. In between his long hours of training and study, he also volunteered as a student-athlete in the "Students Helping Students" program to mentor high school athletes in the Dartmouth District school group and was employed as a Weight Room instructor at The Tower Fitness Centre. Taking time to assist varsity football, soccer and hockey teams when help was required, Andrew Conrad has been the consummate Santamarian.
Outside of the university setting, Andrew has competed as a sprinter and hurdler for 12 years, nine in Nova Scotia and three in Ontario. He has established numerous provincial and Atlantic records both at indoor and outdoor events. After graduation from Saint Mary's in 1994, Andrew moved to Calgary to compete with the Canadian four-man Bobsleigh team but had to put his hopes on hold when he suffered a damaged achilles tendon that required surgery in Halifax. A comeback attempt in 1995 fell short and personal athletic retirement led to yet another highly successful venture into coaching.
Returning to his first love and anxious to give back, Andrew volunteered to become strength and conditioning coach for the Huskies football team, an idea head coach Blake Nill warmly embraced. From 1998 to 2000, he contributed whatever was needed, from designing programs and workouts to filming games and practices while enjoying the experience of one Vanier Cup bid with the Huskies in Toronto. After that it was time to pursue another lifetime ambition, to become a police officer. After traveling the Continent as an elite athlete, competing in events as near as home and as far as California, Utah and British Columbia, it was time in 1990 for Andrew Conrad to make longer range life plans.
Not that he has put his athletic experiences behind him as Andrew continues to design programs for his fellow Halifax Regional Police officers, and to the community for improving athletic speed and strength. But there is more time for fiancée Lise Doiron and young sons Devon and Austin. Andrew Conrad remains forever a Huskie and a most worthy inductee into Saint Mary's Sport Hall of Fame & Heritage Centre.
Portrait Artist: Barb Dorey
Portrait Art Photographer: Joe Chrvala
← Previous Inductee || Next Inductee →