Al Keith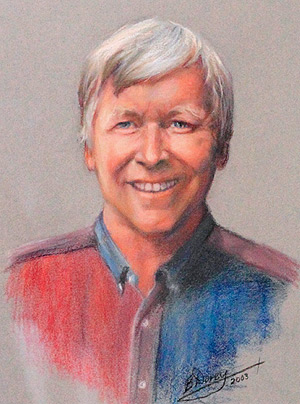 Inducted in 2003
Category: Athlete and Builder
This inductee divides his life at Saint Mary's University (1962 to 1995) into four distinct periods as a result of which he is being inducted today as both an athlete and as a builder.
Life I - a double varsity athlete and a student (1962 - 1965). Considering himself as a hard-hitting defenseman "who logged a lot of ice time", Al served as Assistant Captain, then Captain, for the Varsity Hockey team. However, it is in the sport of football that this inductee really shone. He was a two-way player and was on all specialty teams for three years. He was extremely versatile, playing flanker, defensive back, punter, punt and kick-off returns and held for converts and field goals. Indeed, he recently remarked that he "kinda never got off the field and was usually quite tired by the time the game was over". The year 1964 was a stellar one for the Football Huskies under Captain Al Keith. His game winning point against Saint Francis Xavier University stopped the latter's seven-year undefeated record. In addition, he scored the winning touchdown in Saint Mary's University's first Atlantic Bowl appearance. It is, therefore, not surprising that he was chosen an All-Star both offensively and defensively. Although he was a second round draft choice of the Ottawa Roughriders, he opted instead to further his own education.
Life II - coaching (1969 - 1975). In assisting Coach Bob Hayes in 1969 to being the Head Coach from 1970 to 1975, he amassed a league record of 37 wins against only two losses. His teams appeared four times in the Atlantic Bowl with one victory, and twice in the College Bowl (now known as the Vanier Cup). He was always prepared to boast that the AUAA was the one conference with only four years of eligibility and hence, when his 1973 Huskies won the Nationals, they were the only team with four years eligibility to do so.
Life III - Head Coach (1979 - 1983) and Acting AD (1980). He was a founding member of the VII Pan American Wheelchair Games Committee which successfully bid for Halifax to host these games to be staged in 1982. This was a catalyst which enabled the Government of Canada to assist with the building of both the synthetic track and the field. These led, in turn, to the Province of Nova Scotia's heavy involvement with the construction of The Tower. It also marked the beginning of Saint Mary's University's ongoing support for the physically-challenged members of our community.
Life IV - Assistant Coach (1986 - 1995). In 1986, Al returned to the Saint Mary's University campus as Assistant Coach to Head Coach Larry Uteck.
Now, he is a well-known Councillor to the Town of Shelburne, and the owner of a bed & breakfast establishment in that town.
Portrait Artist: Barb Dorey
Portrait Art Photographer: Joe Chrvala
← Previous Inductee || Next Inductee →