1988 Football Huskies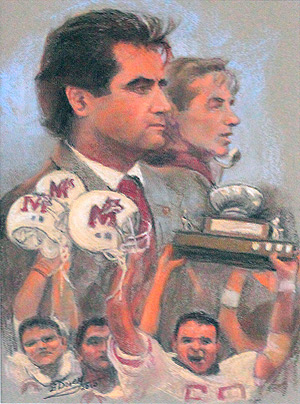 Inducted in 2010
Category: Team
The numbers speak volumes – five All Canadians, 15 AUAA All-Stars, a 9-0 regular season record, the country's No. 1 offense, the nation's No. 2 defense and a 44-10 dismantling of Bishop's Gaiters in the Atlantic Bowl.
The only scar, a 52-23 loss to the Calgary Dinos in the Vanier Cup at Varsity Stadium in Toronto, a setback many to this day feel would have been reversed had All Canadian quarterback Chris Flynn not been injured and unable to suit up.
That said the superlative data only signifies a part of the saga; what the 1988 Saint Mary's Huskies football team truly had in abundance besides the obvious wealth of talent was character. "The bottom line was that this was just a team that enjoyed each other and played together." said Wayne Kirk, an assistant coach with the '88 squad. "Sure there were 55 guys that no doubt had their own individual goals, but they also had team goals. They knew what had to be done to win and they went about doing it." The man that pulled all the parts together was Larry Uteck, who that season became the first coach at SMU to receive the Frank Tindall Trophy, awarded annually to the country's top college sideline boss. "Larry was a great coach and behind it all was Bob Hayes (Athletic Director), a guru, a football genius who masterminded the whole thing." recalled Kirk.
Spearheading the charge was the versatile, nimble-footed Flynn, a native of Buckingham, Quebec, who guided the Huskies to an undefeated 11-0 mark before being injured against Bishop's in the Atlantic Bowl. That set the stage for one of the Vanier Cups' more interesting stories, fourth year slotback Bill Scollard assuming the QB duties from Flynn. Scollard, who hadn't thrown a pass or called a play all season, posted some spectacular numbers and kept the Huskies close before the Dinos pulled away late in the final quarter.
"The 1987 team began the process but it was the 1988 team that really moved us into the national spotlight, the pinnacle." said Kirk. "And I think the key ingredient was that we had a lot of guys on that team who were seasoned, guys that had endured all the hardships and adversities. They were the nucleus."
Joining Flynn, the Hec Crighton Trophy winner as the country's top player, as first team All Canadians were offensive guard Louis Olsacher and linebacker Scott Dunthorne, nominated for the Presidents' Trophy as the country's top defensive performer. Second teamers were tight end Brian Smith and defensive end Doug McKenzie.
Those receiving AUAA All-Star recognition were: Scollard, Jerry Foster (kicker), Barry Richardson (defensive back), Gus Karouzakis (linebacker), Rob Brennan (linebacker), Paul Tonet (defensive tackle), Mario Vani (offensive tackle), Jim Fitzsimmons (defensive back), Konstant Nicolopoulos (offensive center) and Matthew Nealon (wide receiver).
Other team members were: Kevin Aver, Todd Barter, Dwane Brosseau, Mike Caron, Neville Connolly, Kelly Connors, Russell Cooper, Cecil Currie, Gregg Curwin, Steve Doherty, Granville Eastman, Greg Foran, Jody Hubert, Brian Johnson, Steve Kazakis, Mike Korecki, Tom Lee, Gord Lusby, Ian MacDonald, Tim MacIntyre, Richard MacLean, Phil Matzat, Randy McLeod, Dale Morgan, John Murray, Peter Neuman, Scott Nuttall, Basil O'Dei, Andy Peters, Dan Radford, Kevin Reade, Doug Smith, Ken Walcott, John Wedderburn and Anthony Williams.
Assistant coaches Stewart Francis, Gord Fumerton, Wayne Kirk, Pierre Lefebvre, Gord "Spook' MacLeod and Bill Robinson, along with Dr. David Petrie (Team Doctor), Ann Cox (Athletic Therapist), Al Forsey (SID), Paul Mason (Manager), John Landry (Asst. Manager), Bill Robinson, Jr. (Ball Boy) and Dominik Machek, Jr. (Ball Boy) complete this extraordinary group.
Portrait Artist: Barb Dorey
Portrait Art Photographer: Joe Chrvala
← Previous Inductee || Next Inductee →