1979 Men's Basketball Huskies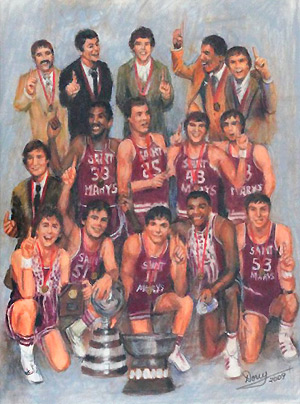 Inducted in 2009
Category: Team
In any discussion of all-time great Huskies teams, the 1979 national championship basketball team has to come under consideration and in the realm of great athletes, the guy who led them on the floor in that memorable year tops most lists. As Head Coach Brian Heaney would later say about that season, "Our overall record wasn't better than other years, just unique in its excellence." With strong exhibition play and wins over US schools St. Joseph's (73-71) and Boston College (82-81) Heaney described these victories as "proof that Saint Mary's can hold its own against all comers now and that this team is on a par with the best in the United States, or anywhere else for that matter". The guy who led them on the floor, of course, was the incomparable Mickey Fox who had returned after a three year absence to pursue a Bachelor of Education degree.
Fox, all-time scoring leader at Saint Mary's, was not the only newcomer. Master recruiter Brian Heaney had also seduced two fifth year transfers, point guard Kevin Wood from Randolph-Macon University and jumping jack Percy Davis from the University of Rhode Island, as well as freshman sensation Jeff Gourley from Fredericton High School, to join the team that had won the national championship the year before. Back to defend their title were fourth year forwards Ross Quackenbush and Tom Kappos, third year shooting guard Rick Plato and second year forwards Ron Blommers and Derrick Lewis. Expectations of winning another championship were high and this team was not about to disappoint.
Averaging over 100 points per game, the Huskies kicked off their regular season with convincing wins over Mount Allison (116-71) and UPEI (125-83) before embarking in December on an arduous eleven day exhibition schedule for tournaments in Montreal, Winnipeg and Calgary.
Returning to Halifax the team faced yet another highly ranked team in the St F.X. X-men who beat the Huskies in a sloppy game, 72-71. Saint Mary's was not pleased. Revenge came in the form of their winning all remaining fifteen AUAA games to finish the season in first place with a record of 17-1 and a number two national ranking.
Still, there were roadblocks to overcome en route to Calgary, including a less than stellar first half of play against St.F.X. in the AUBC final before 8,634 fans at Metro Centre. In an account of the game in the Chronicle-Herald, writer Steve Bezanson described the Huskies taking control of the game in the second half after trailing 36-33: "St.F.X. made Saint Mary's play their game in the first half but they couldn't sustain the tempo, couldn't make up points easily and the Huskies hit them like a battering ram in the second half, building up a 15-point cushion in the first 10 minutes and coasting to an 81-71 victory". Kevin Wood, with 22 points, said of the game: "It was a great win but to be honest, we didn't play that well. But that's the sign of a great team...not to play well and still win". For Wood and the Huskies the best was yet to come. There was a lot of work to do to prepare for the nationals, featuring number one York, Windsor, McGill, Winnipeg, Victoria, host Calgary and wild-card St. F.X. The Huskies were up to the task.
The Huskies battled their way through the elimination and into the final against Victoria, setting the stage for an east-west classic matchup of the two geographical extremes. In the end, it was no contest. Calgary basketball columnist Eligio Gaudio summed it up thusly, "Saint Mary's Huskies outclassed the Victoria Vikings to capture their second consecutive CIAU basketball championship and their third Canadian title in seven years with a 90-83 triumph over third ranked Victoria. The 4,200 plus who took in the contest witnessed what was perhaps one of the all-time best Canadian college players give his finest performance to lead what many are already considering the greatest Canadian university team ever assembled, to an undisputable victory." While the Huskies could by no means be considered a one man team, there were two outstanding individual performances in the final against Victoria; Kappos had a huge 20 point, 20 rebound effort and Fox, a four time All Canadian in this, his final season, scored 37 points. Fox also had 37 points in a 110-95 first round win over Windsor and 27 in a 98-92 semi final victory against York. Fox's total of 101 points and the team's total of 298 points are tournament records that still stand today. Mickey was named Tournament MVP, an honor he also won with the Huskies in 1973.
For his part, the Mick offered a typical response, "I get all the glory because I'm the shooter but this team might have been the finest basketball team ever assembled in Canada. This is certainly the deepest team we've had at Saint Mary's and those people who said we didn't have an inside team didn't know what they were talking about. Just look at Tom Kappos and Ross Quackenbush". Add Wood, Davis, Blommers, Lewis, Plato and Gourley, not to mention the inspiring leadership of Heaney, the support of Coaches Jim Collins and Willie Follette, managers Allan Wentworth, Paul Baxter and John Landry, and trainer Alex McLellan, and we have a proud 2009 addition to the Saint Mary's University Sport Hall of Fame.
Portrait Artist: Barb Dorey
Portrait Art Photographer: Joe Chrvala
← Previous Inductee || Next Inductee →