1978 Men's Basketball Huskies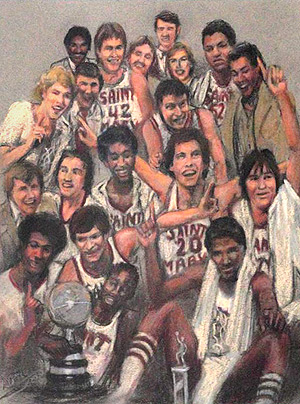 Inducted in 2003
Category: Team
The newspaper headlines said it all, "Huskie Night in Canada", March 1978. The venue, the newly opened 10,000 regular seat (11,000 for basketball) Halifax Metro Centre; where even the then Premier Gerald A. Regan did not have a seat. The teams: the Atlantic Champions - the Acadia University "Axemen" and the host team, Saint Mary's University Huskies, not even ranked in the CIAU Top Ten. The top-ranked Bisons from the University of Manitoba had been expected to win but went down in a stunning defeat in the first round at the hands of the Huskies - 92 to 81. The next day, the newspaper headlines read "Copy of the CIAU Basketball Rankings Found Floating in Halifax Harbour!" The march to the championship had only just begun as the Huskies toppled the University of Victoria Vikings to advance to the "Ultimate All-East Showdown".
The highlights of this game were numerous - Ron "Hawk" McFarland finished with 38 points; a broken ankle; and the MVP Award for the Championship. Brian Heaney's dream of coaching another national championship team had indeed been realized!
The triumphant team did not, however, have an easy road to this CIAU National. While turning down several more lucrative coaching positions, Coach Heaney had amassed a tremendous amount of talent. However, at the outset of the 1977-78 Season, the team was not jelling as a playing unit. In the AUAA Championships, the Huskies lost to Saint Francis Xavier University, but entered the nationals via the backdoor - as the host team. Many would agree with team member Ron Blommers, "that the game was the most exciting to play and watch in the history of Canadian basketball" - a game which was certainly much closer than the 99-91 score would indicate. When John Brown slammed-dunked with 13 seconds remaining against Acadia's Victor Soares, "the crowd went wild and our lives have never been the same since!"
Members of the winning team were: Ron Blommers, John Brown, Bruce Holmes, Derrick Lewis, Tom Kappos, Ron McFarland, Rick Plato, Ross Quackenbush, Art Screaton, Mike Solomon, Roger Tustanoff, Mark Vickers, Frank White. Coaches: Brian Heaney, Brian Burgess, Willie Follette. Managers: Hector Corkum, John Landry, Calvin Smith, Allan Wentworth.
Thanks, guys, for adding another famous chapter to the annals of the proud tradition of varsity athletics at Saint Mary's University.
Portrait Artist: Barb Dorey
Portrait Art Photographer: Joe Chrvala
← Previous Inductee || Next Inductee →