1973 Football Huskies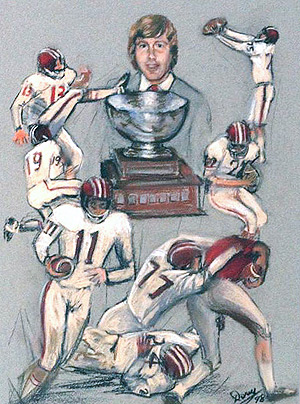 Inducted in 1998
Category: Team
The 1973 Saint Mary's Football Team was the first Atlantic university team to win a national college football playoff championship involving representatives from all intercollegiate leagues. Under the direction of head coach Al Keith, the Huskies began the 1973 season, after having lost two previous Atlantic Bowl games to Western and Waterloo Lutheran. The Huskies took the AUF Championship handily with a team of 17 fourth year players, and including eight Maritimers. Despite being three touchdown underdogs, they defeated Wilfred Laurier 19-17 in a hard fought game for the Atlantic Bowl. On Saturday, November 24 led by quarterback Bill Robinson, wide receiver and kicker Ken Clark and linebacker Fraser MacDonald, they defeated the McGill Redmen 14-6 to win the College Bowl (renamed the Vanier Cup in 1982).
Of the 27 players on the team, 21 were subsequently selected as draftees by the Canadian Football League, and five eventually went on to have extended careers in the CFL. A team member later offered a formula for the team's success: "Playing together as a team, this was the thing that put us over the hill. Although there were a number of outstanding athletic individuals, the team concept was the important thing. We were really close as a group and it showed on the field." In 1986, the Team was inducted into the Nova Scotia Sport Hall of Fame.
The Saint Mary's Sport Hall of Fame & Heritage Centre is proud to recognize the accomplishments of all members of the team: Rodney Allison, Richard Bishop, Larry Bridges, Jim Browne, Brian Burgess, Tony Cipollini, Ken Clark, Mike Curry, Dave Faryniuk, Gord Fumerton, Peter Grandy, Bob Hayes, Bruce Hopkins, Keith Hotchkiss, Al Keith, Roy Kendall, Mike Kirkpatrick, John Landry, Rick Lewis, Charlie MacDonald, Fraser MacDonald, Gord MacLeod, A.J. Marinari, John Matkowski, Henri Mayer, Dave McCormick, Peter Miller, David Murphy, Ralph Panzullo, Cliff Pelham, Dave Petrie, Hector Pothier, Mike Riley, Bill Robinson, Jim Rodgers, Ray Romano, Angelo Santucci, Joe Simatovic, Stephen Teller, Frank Theriault, Dave Townsend, Doug Wasson, Greg Watson, Dave White, Doug Wright, Frank Yakimchuk.
Portrait Artist: Barb Dorey
Portrait Art Photographer: Joe Chrvala
← Previous Inductee || Next Inductee →