Academic Student Support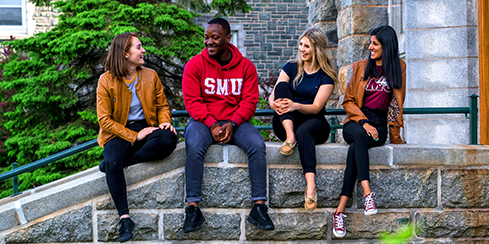 Saint Mary's science and engineering students have access to a number of science-specific academic support services, in addition to university-wide supports like the Writing Centre.
---
Science Advising Centre The team at the Science Advising Centre is available to answer questions about your degree and its requirements. You can contact them at any stage of your academic career - whether you are a future or current student.
---
Program Advisors
Every department has its own program advisors who are available to discuss research and potential career options, in addition to course selection.
---
SNAP Centre The Science Numeracy and Academic Proficiency (SNAP) Centre is a drop-in, academic support centre for first-year students. It provides free tutoring help with mathematics, physics, and chemistry coursework.
---
PEER One Mentoring
Thanks to the Faculty of Science's PEER One Mentoring program, all first-year science and engineering students are paired with an upper-year student mentor to help ease the transition to university life.
---
Success Maps
The Success Maps tool helps you set goals, track accomplishments, discover new opportunities, and prepare for your post-graduation career. Explore the tool on your own, then with your Advisors and Career Services. Review it frequently to make sure you're sticking to your plan.