Graduate Photos & Rings
Graduate Photos‌While graduation photos are not required of each graduate, you do have the option to have photos taken with the photographer/studio of your choice.
Calnen Photography a local Halifax studio, has been provided with the University's academic regalia (hood & gown) meaning that graduates can have photos taken at the studio without borrowing the regalia from the University.
Calnen will provide SMUSA with your Grad photo for the Yearbook. Students having their photo taken with another photographer can contact SMUSA to have their photo included in the yearbook.
Calnen Photography will be on campus in March to take grad photos. Book a time slot between 9am-4pm to arrange your sitting.
Dates for on-campus grad photos:
March 19, 2019
March 20, 2019
March 21, 2019
March 26, 2019
March 28, 2019
March 29, 2019
---
Renting Academic RegaliaGraduates can rent academic regalia from the Service Centre for their photos. Please request academic regalia 48 hours before your preferred pickup date (Monday- Friday) by emailing Service.Centre@smu.ca. Please provide your name, student ID, and the degree you will be receiving.
Cost: If academic regalia is borrowed 30 days prior to, or after graduation there will be no charge to a graduating student. Outside 30 days or for alumni of the University a $20.00 CAD fee will apply. A credit card will be required at the time of pick up and charged if damage occurs or the regalia is not returned.
---
Graduate Rings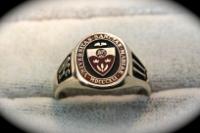 A Saint Mary's University graduation ring is a symbol of achievement for a lifetime. The University Bookstore provides full service ‌year round to ensure students can place an order and choose the options that best suit their personalization choices.
During the academic year, ring orders may be placed on Special Ring Days in the Bookstore. See our upcoming events notice on the Bookstore's home page for Ring Day dates and times. Appointments may also be made by calling 902-491-6284.
Rings normally take 8 to 10 weeks to be manufactured and delivered to the Bookstore. Students are called when their ring arrives.
A prepayment of $115 is required when ring orders are placed. Ring descriptions and current prices are available on the Book Store Webpage.