Matt Logan B.Sc. M.Sc.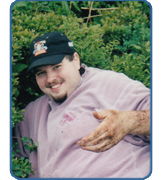 Matt Logan joined the technical staff in Biology Department in 2012.
Matt grew up in Nova Scotia and has always had an interest in the marine environment since a visit to the Vancouver Aquarium, strengthened by an admiration of Dr Grant Roberts. He has attended Dalhousie University where he graduated with a B.Sc. Hons. in Marine Biology, and Memorial University where he obtained his M.Sc. in their Cognitive and Behavioural Ecology program. The theses associated with these degrees used fatty acid signature analysis to determine dietary differences within populations of Andean lake perch and Leach's Storm-petrels, respectively. Matt has also worked with many different government and academic departments on projects related to dietary analysis, population ecology, aquaculture, stress biochemistry and impacts of ecotourism.
In his spare time Matt enjoys nature photography, geocaching, bird-watching and spoiling his daughter.