Department of Modern Languages & Classics
Photo Gallery
Featured Classics Alumni: Allison Fraser: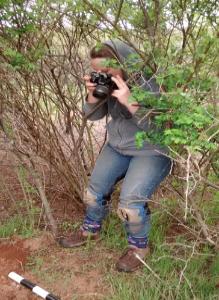 Allison Fraser holds a B.A. (Hon) in Anthropology and Classics from Saint Mary's University, and works as an archaeologist in the Cultural Resource Management field. Allison is interested in landscape archaeology, geomorphology, and non-invasive methods of archaeological research. A native of Nova Scotia, Allison loves to spend time outdoors and is ecstatic with the lifestyle that a career in archaeology has brought her and loves to share that interest with anyone willing to lend an ear. Since discovering archaeology she has participated in local and international excavations, held a CCH Heritage Research Permit, and has been involved as a volunteer in a variety of public archaeology programs. Allison is very interested in promoting archaeology to the public and wants to help the NSAS thrive as a platform for the exchange of ideas between professional and amateur archaeologists.
Dr. John Traill (University of Toronto, retired) and his wife Terry with Dr. Alison Barclay.
SMU Classic Society