Department of Environmental Science
ENVS Alumni
Find out what is happening with our SMU Environmental Science Alumni!
---
Dr. Nicholas Warner. SMU ENVS 2001.
Seniorforsker (Senior Researcher), NILU (Norwegian Institute for Air Research). Kjeller, Norway.
Website: http://www.nilu.no/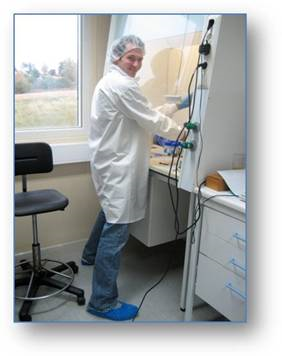 After graduating from SMU, I moved to Edmonton, Alberta to pursue my PhD in Analytical Chemistry. There I studied the enantioselective metabolism of chiral pollutants in marine organisms and humans. After completing my PhD in 2008, I moved to Tromsø, Norway for a post-doctoral research position to work under the COPOL (Contaminants in Polar Regions) project which aimed at investigating how transport and exposure of environmental pollutants will be affected by changes in the physical environment cause by climate change. I stayed on at NILU and am now a senior researcher where my area of interest lies in Development of analytical methodology to better determine environmental exposure and fate of emerging environmental pollutants, with particular focus on chemicals used in personal care products.
---
Technical Advisor, New Homes Department, Sustainable Housing Inc, Halifax, Nova Scotia.
Website: http://www.sustainablehousing.ca/
I'm a Technical Advisor there in the New Homes department. In short, home builders in Nova Scotia and New Brunswick can enroll through our company into an energy efficiency rebate program for new construction put on by Efficiency Nova Scotia. They submit their architectural plans or blueprints to myself or a colleague, and we model the home in 3D software, and then provide recommendations on home to make the home more sustainable, and how to incorporate that into the building process. Examples might be choosing different wall assemblies, lowering air change rates, or installing heat pumps in certain parts of the home etc., depending on the budget the home is working with. After the build one of our on-site evaluaters will visit the home and report back to myself or a colleague which recommendations were taken, and we then make adjustments to their modelling, calculate annual energy consumption and GHG emissions among other things, and provide them with a score, which is then sent to ENS to trigger the rebate process. I've been able to get experience with other green building programs such as Energy Star, R-2000, and Passive Houses.
It's been a great job so far, and I've been very fortunate to find something within the general environmental field, almost right out of graduation. I never saw myself working in home constructions, but I've learned so much about building science and green building since starting here, information that will be useful for me where ever I go, even when I buy my own house some day! This is a family operated company, and the management are very kind, and great to work for. I love that every home is different, and each one brings unique challenges, and makes me work to establish a path to reach the target rating, so the HO can get the rebate they are looking for.
---
Dollie Campbell. SMU ENVS 2006.
Aquatic Science Technician, Department of Fisheries and Oceans. Fisheries Biologist, Makivik Corporation.
Website: http://www.makivik.org/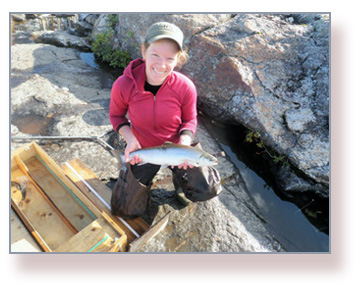 I graduated in 2006 and worked with DFO on and off with contract work as an Aquatic Science Technician and fishing elvers commercially for a couple of years before starting an MSc in Applied Science at SMU with dr. David Cone in Biology. MSc started in 2009 and worked on that until 2011 when I took a full-time permanent position as a Fisheries Biologist with a non-profit Inuit organization in Nunavik (Northern Quebec) known as Makivik Corporation. Worked with the Inuit of Nunavik until 2013 when I returned back to NS. It was wonderful working up there, beautiful fresh barren land of lovely culture. When I returned to NS I was able to pick up another contract with DFO as a Port Sampling Technician, monitoring commercial groundfish catches in cape Breton. once that was completed I finished up my MSc (2014) and am now back to fishing elvers commercially for the next couple weeks.
It has been a busy few years after graduating but I have had so mnay opportunities.
---
Brenden Blotnicky. SMU ENVS 2013.
Energy Efficient Product Installer, Summerhill, Halifax, Nova Scotia.
Website: http://summerhillgroup.ca/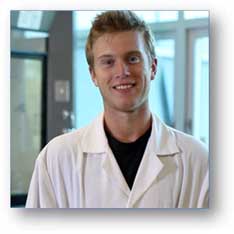 I am currently working full-time for a company called Summerhill (sister company to Clean Nova Scotia). We do a lot of work for Efficiency Nova Scotia. During my eight months I have worked as;
An Energy Efficient Product Installer (ie. lights, water saving measures, heat measures)
I am a Team Lead in this same role now (getting a promotion within five months of hire)
I have done business energy assessments and product retrofits
On the weekends I work as an Efficiency Ambassador in retail stores (discussing Efficiency NS programs/teaching consumers the benefits toward energy efficent products/easy everyday energy saving measures)
Data entry for numerous programs (Nalcor-NFLD) for people in remote areas of Northern Newfoundland.
I will be finishing my 2nd term with them in August where I will then be resuming my education at Dalhousie (always a husky at heart though!) to persue my Masters of Resource and Environmental Managment. This program, for the sounds of it, is perfect for my career desires as its a combination of business with an environmental/resource focus.
---
Graduate Student in the field of Costal Geomorphology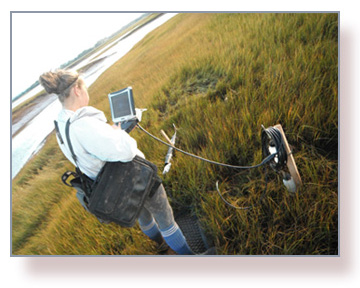 I am working with Dr. Danika van Proosdij of the Geography Department, in the field of Coastal Geomorphology. I'm studying sediment transport in intertidal systems, specifically the tidal creek and salt marsh systems in the Bay of Fundy. I'm examining the seasonal controls and spatial variability in sediment deposition and sediment erosion. This research is part of a collaborative effort (with Dalhousie, Queen's, and Fisheries and Oceans) to characterize the natural variability of these Bay of Fundy intertidal zones.
---
Sailing instructor for Nova Scotia Sea School, Consulting Associate for the Maritime Tidal Energy Corporation, Halifax, Nova Scotia.
Website: http://maritimetidal.com/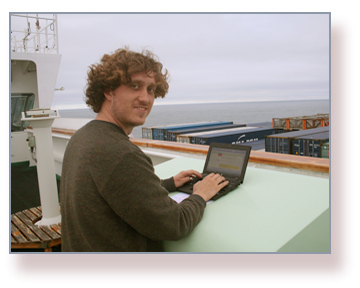 I am currently aboard the CMA-CGM La Scala passing Kamchatka and bound for Vancouver. I recently finished an internship in Shanghai with CESG-Shanghai, a Sustainable Transport start-up company focused on providing consulting services and gathering urban transport data on Chinese cities. The trip across the Pacific takes 12 days, during which time I am working on a policy matrix for CESG-Shanghai. I will be returning to Nova Scotia this summer to work for the Nova Scotia Sea School as a sailing instructor and in the fall I plan on continuing work as a consulting associate for the Maritime Tidal Energy Corporation and attending the International Conference on Ocean Energy taking place in Halifax the first week of November 2014.
---
Research, Organization & Communications Assistant (co-op) for the St. Mary's School of the Environment.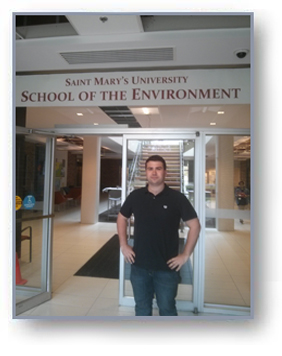 I am assisting with the establishment of the new School of the Environment as a major player at the University, as well as in Halifax, in Nova Scotia, and in Canada as a whole.
I am working with faculty and students within the SOE to develope tools to support and promote their environmental research and community service. Also, externally meeting with a wide range of orginizations to highlight the educational opportunities the SOE offers to current and new students, and the importance of the environmental research taking place on campus.
---
Environmental Scientist, IAQ & Occupational Hygenist with Pinchin LeBlanc Environmental Ltd.
Website: http://www.pinchinleblanc.com/
I am currently working for Pinchin LeBlanc Environmental Ltd which is a full-service environmental consulting firm which was established in 1993. We offer a fill range of environmental services however I work in the Indoor Air Quality (IAQ) and Occupational Hygiene Group.
Air quality is a prominent issue in large measure because energy-efficient buildings have created airtight environments with less air exchange. As part of my resposibilities I measure IAQ comfort parameters including temperature, relative humidity, air pressure, air velocity, and carbon monoxide. I also examine buildings for contaminant sources in both the indoor and outdoor environment, with testing for specific contaminants. Furthermore, I conduct microbiological testing to determine levels of specific types of fungus. Respobsibilities also include sampling of potable water sources for various marine and commercial clients.
In the field of occupational hygiene we concern ourselves with the anticipation, recognition, evauation and control of occupational stressors that could lead to workplace diseases. These evaluations could involve developing sampling programs for a range of physical (i.e. noise/radiation), chemical (i.e. Ethyl Acetate, benzene, etc), and biological (i.e. mould) hazards.