Dr. Diane Crocker - Profile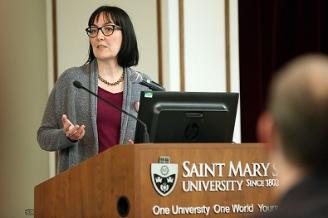 Professor Full-Time Faculty
Personal Profile
Ph.D. (Sociology) York University, 2002
M.A (Sociology) York University, 1997
B.A. (Anthropology) Memorial University, 1992
Diane Crocker holds a Ph.D. in Sociology from York University. She is currently a Professor in the Department Criminology teaching courses in Criminology. Her research areas include restorative justice, rape culture, violence against women, criminal harassment and the use of law to address social problems, particularly those that disproportionately affect women. She has worked on projects in the following areas:
The effects of the criminal harassment (stalking) law on victims of stalking;
Restorative justice in youth criminal justice, prisons, and schools;
Feminist waves in academe;
Domestic violence policies and intervention programs;
The politics of crime control.
Dr. Crocker has recently launched a new research project exploring how university students understand, negotiate and make meaning of "rape culture." She continues to explore questions related to measuring the success of criminal justice policies.
For more information please visit www.dianecrocker.com
Follow Dr. Crocker on Twitter @smudianecrocker
Curriculum Vitae: Diane Crocker - CV
---
Current Projects
Engaging (In)Justice Stories $24,682, Social Sciences and Humanities Research Council. Partnership Engage Grant (Principal Investigator)
Restorative Conversations: Expanding the Dialogue $75,000 funded by the Department of Justice Canada (Research Partner)
IMPACTS: Collaborations to Address Sexual Violence on Campus $2,000,000 Social Sciences and Humanities Research Council. Partnership Grant (Co-Investigator; Principal Investigator Shareen Sharriff)
Evaluation of the Circles of Support and Accountably (COSA) Program (2017-2021) $267,400 (Research Contract, Principal Investigator)
Methods Matter: Integrating Complexity into Research On Rape Culture $51,088 (Principal Investigator) SSHRC Insight Development Grant
Canadian Domestic Homicide Prevention Initiative for Vulnerable Populations $2.1 million (Co-Applicant, Peter Jaffee and Myrna Dawson Co-Principal Investigators) SSHRC Partnership Grant
---
Course Listing
Criminology 2304 - Canadian Criminal Justice System
Sociology/Criminology 3102 - Quantitative Research Methods
Criminology 3205 - Restorative Justice in Theory
Criminology 4205 - Restorative Justice in Practice
Sociology/Criminology 4450 - Practicum in Community Development