Department of Anthropology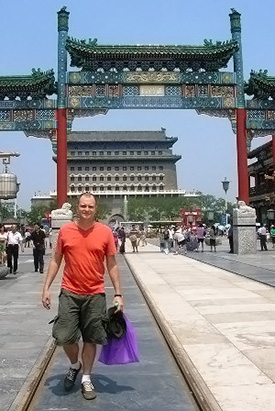 Dr. Henry on Qianmen Street, Beijing, China, 2010
Dr. Eric Henry
Assistant Professor
Department of Anthropology
Saint Mary's University
Halifax, NS B3H 3C3
Email: eric.henry@smu.ca
Phone: 902 420-5629
Office: MS227
Linguistic anthropology; China; global languages (English and Chinese); language teaching; modernity and cosmopolitanism.
Human Communications Laboratory
The Human Communications Laboratory, located in room MS225, is a resource centre for students using linguistic data in their research. The lab contains recording equipment, transcription stations and software for analyzing linguistic and ethnographic data. A resource library of books related to language, linguistic anthropology, data analysis and ethnographic methods is also available.
The laboratory supports work for classes in the linguistic anthropology stream, especially ANTH 3396 - Language Issues in Canada, and ANTH 4491 - Ethnography of Communication.