Saint Mary's professor wins Young Scientist Award
14 July, 2016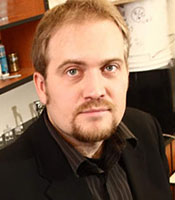 Dr. Jacob Hanley, Saint Mary's University Geology Professor has been honoured with the Young Scientist Award by the Mineralogical Association of Canada. This award is given to a young scientist who has made a significant international research contribution in a promising start to a scientific career.
"The past award winners are globally recognized experts in their fields who have made major contributions to the field of mineralogy in Canada and internationally," said Dr. Hanley. "I looked up to many of those researchers when I was a student, and idolized a few of them because their work was so cool and they seemed so intimidating. I am honored to receive this award because it signifies that the experts consider me to be making an important contribution."
Dr. Hanley's focus since arriving at Saint Mary's in 2007 has been to develop a dedicated laboratory for characterizing rocks, minerals and fluids from strategic "green" metal deposits.
"Strategic and green meaning metals that have direct applications to the development of technologies that can move us away from our dependence on fossil fuels as energy sources," he said.
Dr. Hanley says the goal is to use analytical techniques and field methods to understand how metal deposits form and develop criteria to help industry locate these deposits in remote parts of Canada. They will also ensure that any environmentally toxic metals are also recognized so mining companies can minimize the quantity of toxic metals that are brought to the surface.
Dr. Hanley was presented with the award at the Mineralogical Association of Canada annual general meeting. He received a gold medal and a monetary prize that he donated back to the association to contribute to open student travel grants.
"The recognition is greatly appreciated, and it also recognizes the research we do here at Saint Mary's in the area of applied mineral resource geoscience is being recognized nationally and internationally."