Department of Modern Languages & Classics
Dr. Jean-Jacques Defert
Dr. Jean-Jacques Defert is an Assistant Professor in the Department of Modern Languages and Classics. Before joining Saint Mary's University, he completed a PhD in Francophone Literatures and Cultural Studies at the University of Alberta in Edmonton. Upon graduation, he worked for a year as a full time lecturer at Campus Saint Jean (UofA), as an Assistant Professor in the Department of French at Dalhousie University and as an Instructor of French at the University of British Columbia.
Research
In his initial area of expertise, Dr. Defert's archaeological work on nineteenth century modes of representation has led to the publication of articles in cultural history and 19th century literature.
His current research interests lie in contemporary topics related to the sociology and history of immigration as well as migrant literature, which include theories of complexity, hybrid identities, acculturation processes, cultural policy and cultural management, intercultural competence and communication.
As a member of GRITI, he conducted with Dr. Paul Dubé in 2010 and 2011 a research on the integration process of international students from Sub-Saharan francophone countries at Campus Saint-Jean (UofA) entitled "Parcours migratoire".
He has been investigating literary and cinematographic narratives of illegal immigration in Europe with a focus on Maghreb populations. Of particular interest to him is the representation of the ghostly figure of the "harraga" in the media, the film industry and literature.
His published work includes a monograph, the co-edition of a collection of articles as well as articles. His work has appeared in several conference proceedings as well as the International Journal of Canadian Studies, the Presses de l'Université Laval (PUL), and Cambridge Scholars Publishing.
Teaching
He has taught a variety of specialized courses (French Culture and Civilization, French 19th Century Literature, French 20th Century Literature, Intercultural Competence and Communication, Contemporary migration literature). In addition to teaching these thematic courses, he has taught a wide range of language courses at all levels. "In order to support and motivate students in the production of the language", he says "I try to use authentic cultural materials linked to their own experience so as to engage them in the learning process either as members of the community, citizens of a country or global citizens".
He developed a range of thematic and language courses with an experiential learning component to expand the language experience of the students beyond the four walls of the classroom and foster the development of their intercultural competences. He created and coordinated a French oral course with a Community Service Learning component which involved developing partnerships with a wide range of Francophone community organizations in Halifax where students contribute their time to specific projects (radio programs, cultural events, social services).
He also taught a course in Intercultural communication in which students had regular group discussions with French international informants in an attempt to evaluate cultural differences related to a variety of themes.
Service to the community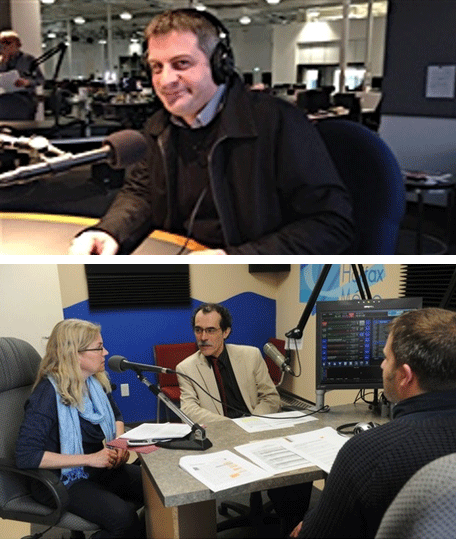 Over the years he worked at Dalhousie University, he acquired a valuable administrative experience sitting on various boards and committees at the University and in the community.
He served as the CIC (Certificate in Intercultural Communication) Academic Advisor in 2013-2014. As the Academic Advisor, some of his responsibilities included promoting the program at the career fairs, advising students on their choice of courses, and coordinating the development of new contents.
He was an administrator on several boards and committees in the Francophone community (the Immigration Committee; the Board of Directors of the community radio station CKRH; the Board of Directors of the Conseil Communautaire du Grand Havre).
As a volunteer, he hosted a number of radio programs showcasing Francophone music and university scholars. He was also the president of the Festival des cultures francophones / Francofest between 2011 and 2015.
Selected publications and conferences
-Books-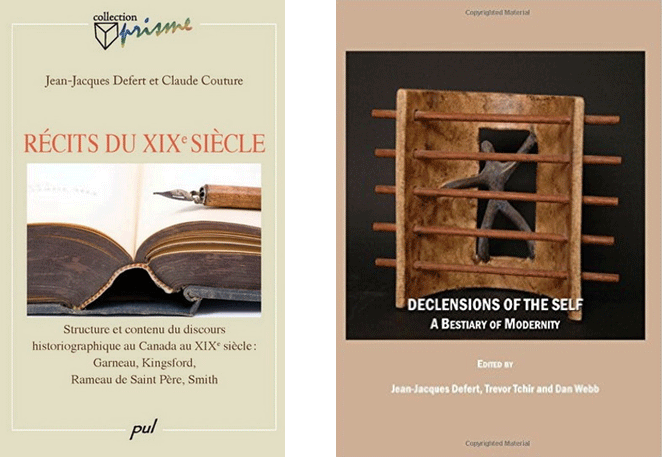 Defert, Jean-Jacques, and Claude Couture, Récits du 19ème siècle. Structure et contenu du discours historiographique au Canada au 19ème siècle : Garneau, Kingsford, Rameau de Saint-Père, Smith, Québec, Les Presses de l'Université Laval, September 2010.
Defert, Jean-Jacques, Trevor Tchir, and Dan Webb, Eds., Declensions of the Self – A Bestiary of Modernity, Newcastle upon Tyne, Cambridge Scholars Publishing, November 2008.
-Articles-
"Développement et promotion de la compétence interculturelle en milieu universitaire. Réflexions sur les pratiques d'enseignement des langues et cultures", Transfert des savoirs; savoirs des pratiques. Production et mobilisation des savoirs pour une communauté inclusive, Anne Boerger, Paul Dubé, Paulin Mulatris (Eds), Presses de l'Université Laval, Octobre 2014, p.337-357.
"Complexité dispositionnelle. Une heuristique au service des politiques communautaires. Étude de cas", Impenser la francophonie : recherches, renouvellement, diversité, identité…, Conference proceedings of CEFCO's 22nd conférence, Pamela Sing and Estelle Dansereau (Eds), 2012, p.67-86.
"Appréhender la complexité. Enjeux et raisonances dans le domaine culturel", International Journal of Canadian Studies / Revue internationale d'études canadiennes, 2012, N.45-46, p. 307-329.
http://www.erudit.org/revue/ijcs/2012/v/n45-46/1009908ar.pdf

-Book Reviews-
Review of "Tours et détours. Le mythe de Babel dans la littérature contemporaine", Dalhousie French Studies, 2014.
Review of "Vers l'imaginaire migrant. La fiction narrative des écrivains immigrants francophones au Québec", Dalhousie French Studies, 2013.

-Conferences-
"Sacrifice de soi et lendemains qui chantent ? Conditions de possibilité d'une réénonciation collective dans le roman maghrébin francophone contemporain", LERIC International Conference, Université Chouaïb Doukkali, El Jadida, Maroc, April 24th-25th 2014.
Public Lecture entitled "Harragas: Nouvelles frontières à l'ère de la mondialisation", Canadian Museum of Immigration at Pier 21 (Halifax) in partnership with Alliance Française, March 25th 2014.
Workshop in partnership with the International Centre at Dalhousie University, "Developing Intercultural competence with the Certificate of Intercultural Communication", October, 1st 2013.
"Development and Promotion of Intercultural Competence in the Academia: Reflections on Contemporary Practices in Language Departments", Centre for Learning and Teaching Conference "Internationalizing Teaching and Learning in a Global Context", Dalhousie University, May 1st-2nd 2013.
"Développement et promotion de la compétence interculturelle en milieu universitaire. Réflexions sur les pratiques d'enseignement des langues et cultures", GRITI International Conference, Campus Saint Jean, University of Alberta (Edmonton, Alberta), October 11th-13th 2012.
"Parcours migratoire: conceptualisation d'une expérience", Causeries du vendredi, Department of French, Dalhousie University, November 18th 2011.
"Revolutionizing Cultural Identity: Photography and the Changing Face of Immigration", presentation at Pier 21 Museum in partnership with Alliance française in Halifax, October 22nd 2011.
"Dispositional Complexity: Adaptive Strategies and Variations to a Foreign Academic Environment. A case Study", CRONEM 7th Annual Conference Global Migration and Multiculturalism: Religion, Society, Policy and Politics, University of Surrey (UK), June 28th-29th 2011.
"Complexité dispositionnelle? Prolégomènes pour une réactualisation des politiques communautaires", CEFCO Conference "Impenser la francophonie. Renouvellement, recherches, diversité, identité", Campus Saint Jean, University of Alberta, September 24th -25th, 2010.